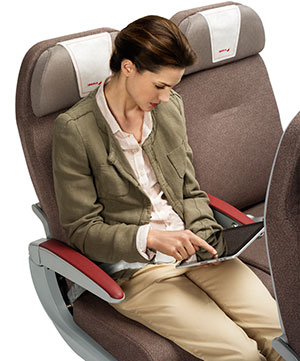 Iberia now offers Wi-Fi and GSM connectivity on aircraft serving transatlantic routes between Europe and the US and South America, having introduced the Mobile OnAir and Internet OnAir services on its A330s and A340-500s.
The latest installations bring the total number of Wi-Fi equipped aircraft in Iberia's fleet to 18.
It marks a significant step in the Spanish carrier's plan to have connectivity solutions installed on a total of 25 A330s and A340s. This rollout is scheduled to be complete by the end of 2015.
Ian Dawkins, CEO of OnAir and a panellist in the Cabin Integration Symposium which will take place at FTE Global 2014, said he hopes Iberia's investment in connectivity will help to encourage other European carriers to follow suit.
"Other regions, particularly the Middle East and Asia, are moving ahead fast with satellite-based connectivity and European carriers are at risk of having to play catch-up," he said.
"I'm sure this will be the wake-up the call they need to start providing what passengers want: the ability to stay in touch during flights."