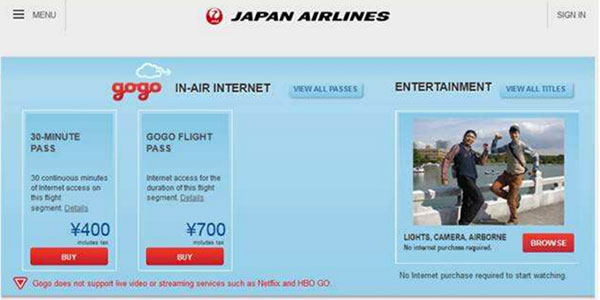 Japan Airlines (JAL) will introduce in-flight connectivity and wireless in-flight entertainment (IFE) on three domestic routes on 23 July, before adding the service on a fourth route on 2 August.
Passengers flying between Tokyo Haneda and Itami, Fukuoka and Hakodate will be the first to be able to make use of the onboard Wi-Fi, while those travelling between Tokyo Haneda and Sapporo will have Internet access from early August. In total, 77 domestic aircraft will be equipped with onboard connectivity by 2016.
Passengers will be able to use their own device to access video content and the JAL website free of charge, but they will have to pay for full Internet access, which is delivered by Gogo and branded 'JAL SKY Wi-Fi'.
JAL's rollout of onboard Wi-Fi is part of a wider scheme to improve the overall passenger experience on domestic services. In November 2013, the carrier announced that it was going to revamp the cabin interior on domestic aircraft, install slimline seats that offer more legroom and use LED lighting to enhance cabin ambience.