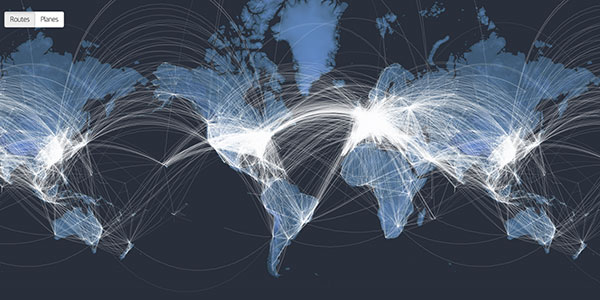 Just as satellite companies and in-flight connectivity providers have squared off to compete for business associated with the e-enablement of civil aircraft, so too have they squared off to provide formal aircraft tracking solutions in the wake of the tragic disappearance of MH370.
Inmarsat and Iridium's separate L-band satellite networks have each supported cockpit communications and aircraft tracking solutions for years. Inmarsat is the leader in the space by a wide margin. But both companies suggest they can easily provide more precise tracking to meet any fresh guidance from IATA, which is working closely with ICAO to identify global tracking options for airlines.
For its part, Inmarsat is offering a 'free tracking' service that consists of one free ADS-C position report every 15 minutes to the 80% of wide-body transoceanic aircraft that are already FANS (Future Air Navigation) equipped. It is also willing to add position reporting within the Inmarsat 'handshake' with its satellites for the 20% of wide-body aircraft that are not FANS compliant and may ask for it, said Inmarsat VP Commercial and ATM Infrastructures Christian Dumas in explaining the company's proposal to IATA/ICAO.
In presenting its own case to IATA, Iridium identified and described some of the unique attributes and capabilities of the Iridium network as compared to other terrestrial or satellite networks for data communications and aircraft tracking, says Brian Pemberton, who leads the firm's aviation business. "Iridium, as well as some of its partners, highlighted the very affordable tracking solutions that are currently available, and that the incremental cost of more precise tracking by satellite is not material to an airline's operation."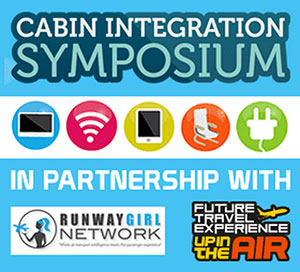 It's clear that the satellite infrastructure is already in place to accommodate the airline industry's current tracking needs, though it should be noted that the satellite networks referenced above are in their twilight years. The good news, however, is that Inmarsat's SwiftBroadband (SBB) service – operated over its newer I-4 satellites – is in line to receive 'safety services' approval, so secure flight tracking over SBB is on the cards. Hawaiian Airlines is among the airlines looking to participate in trials with Inmarsat, as confirmed by the carrier's Principal Engineer – Avionics Engineering Dan Smith.
Iridium, meanwhile, is preparing to launch its 'NEXT' generation constellation, starting next year. "The first Iridium NEXT launch is expected to take place in June 2015, utilising an ISC Kosmotras Dnepr rocket out of Yasny, Russia. The remaining launches are expected to take place between 2015 and 2017 using a SpaceX Falcon 9 launch vehicle," says Pemberton. In addition to higher bandwidth communications for aero and other markets, NEXT will support the space-based ADS-B service known as Aireon.
But no discussion about aircraft tracking is complete without mentioning the essential work of the service providers, which have also tabled proposals to IATA that leverage Inmarsat and/or Iridium networks.
SITA
Philip Clinch, SITA's Aircraft Services VP, suggests that SITA is key to implementing Inmarsat's proposed free tracking service. He shared that SITA is currently in talks with Inmarsat about how the service would work, and as it turns out — exactly how SITA's own tracking solution will fit snugly into the same picture.
The SITA AIRCOM Server Flight Tracker solution, as it's called, uses already long-haul requisite ADS-C in concert with ACARS (Aircraft Communications Addressing and Reporting System), but expands ADS-C request capability into the hands of airlines. Traditionally handled only by air traffic control, SITA wants to give airlines the aptitude to request flight location and see their aircraft from takeoff to landing.
According to Clinch, quite a few airlines are testing the service now, though he declined to reveal pilot customers' names or numbers. He stresses that the AIRCOM Server Flight Tracker is not limited to Inmarsat's connectivity link, and can use other pipes from VHF to Iridium.
Rockwell Collins' ARINC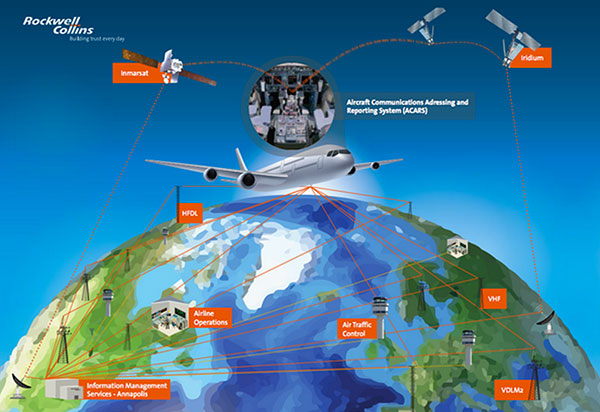 Acquired by Rockwell Collins last year, ARINC – which introduced ACARS in 1929 – is also uniquely positioned to assist IATA.
Like SITA, ARINC suggests the technology exists today to improve tracking. Over 300 airlines and 15,000 aircraft around the world rely on ACARS and ARINC's GLOBALink infrastructure for critical communications. A VHF data link extends throughout all of North and Central America as well as most of Europe and Asia. Inmarsat's satellite service expands VHF capabilities to include real-time reporting of flight and weather information. HF covers remote polar regions, while Iridium is used to fill in intermittent oceanic and polar coverage.
"We may have to write some software, we may have to do some different things – upgrade the airplane to implement this capability – but we don't need to invest in new technology," Rockwell Collins CEO Kelly Ortberg told Reuters in April in discussing how the firm can support any new flight tracking protocols.
Panasonic Avionics
Operating over the global Iridium satellite constellation, Panasonic Avionics' FlightLink cockpit communications and tracking solution is in active operation on about 260 aircraft.
FlightLink comprises three LRUs – a so-called TAMDAR sensor, which supports real-time atmospheric data collection for dynamic weather reports; a processing box, which houses all the communication protocols with the flight deck and an internal GPS; and an antenna that is about the size of an iPhone.
Panasonic acquired these cockpit comms proficiencies when it bought AirDat in early 2013. Now FlightLink is core to Panasonic's tracking proposal to IATA, confirms Panasonic Avionics director Jeff Rex, who previously served as AirDat VP engineering & production integration. "It's global, and it's highly configurable, so it's tailored more to airline operations," he says.
Additionally, reveals Rex, "Any aircraft that has GPS equipped, we're offering free tracking for those aircraft. Once weather data comes off automatically, in five-minute intervals, that [position data] is already coming and that's included in the packaging that would be free data to the airline."
While some operators are waiting for guidance from IATA, says Rex, "Others say, 'we're not going to be caught in that situation; we'll put something on the planes to track them'." Multiple undisclosed operators are now studying FlightLink, either with or without the TAMDAR element.
Nose to tail
But major industry stakeholders vying for new flight tracking business don't view connectivity in isolation; rather, they aim to e-enable aircraft from nose to tail to drive operational benefits for airlines, in addition to supporting passenger connectivity. It's safe to say that competition in the sector is now well and truly fierce.
"The combination of Iridium and Ku is one of the main reasons the (AirDat) acquisition was done, because it gives us a powerful overlap that covers anywhere on the globe and the combination of the two give us what we think is an unparalleled offering," explains Panasonic's Rex.
"We're definitely working on having the two systems work together to have optimised data flow to and from aircraft where it makes sense." For instance, while it's impossible to offer graphical weather updates to pilots over the low-bandwidth Iridium service, "over [broadband] Ku, it's very doable, and becomes one of the primary applications where we could use Ku for the weather side".
The flight deck is where the industry "is going to see an acceleration of the transformation" of aircraft through e-enablement, predicts SITA VP, Air Transport Industry Cloud Gregory Ouillon. "A lot of airlines have been introducing electronic flight bags, but the ability to connect in real time these EFBs and the aircraft to the ground will change the game. The pilots will get much better situational awareness, getting data from the operational control centre or from air traffic. They will get real-time weather data and turbulence, and make much smarter decisions about their flight plans."
SITA subsidiary OnAir – which provides inflight Wi-Fi and mobile connectivity to airlines – is positioned to help support its parent in executing on its vision. CEO Ian Dawkins notes that there are "endless opportunities" to exploit tablet technology and connectivity, for instance.
Meanwhile, Rockwell Collins has made no secret of its e-enablement strategy. It has combined recently acquired ARINC with its own Flight Information Solutions business to establish a new Information Management Services (IMS) unit, which will offer "an end-to-end solution which is unique to Rockwell Collins", says IMS Senior Vice President Jeff Standerski.
Giving some examples of the types of solutions the IMS unit will offer, Standerski points to its existing business aviation weather radar application, which uploads weather information directly to the aircraft and displays it to the pilot. "Fast-forward that to airline transport and on the (Boeing) 737Max we're providing flight deck displays. We can take the same app and provide the same information on the front flight deck display," he says.
Another example is providing cabin crew with the ability to carry out real-time credit card transactions in-flight, which Cathay Pacific is already doing through the e-enablement programme it entered with ARINC in 2012. Standerski says that Cathay Pacific has seen its "10-15% credit card fraud problem resolved through (real-time) validation".
Additional reporting by Chelsea Bryan and Kerry Reals, Runway Girl Network.
Mary Kirby, Founder and Editor of Runway Girl Network, will lead the Cabin Integration Symposium at FTE Global 2014, which will take place in Las Vegas from 24-26 September 2014. The Symposium includes two panels – the Connectivity Panel and the Interiors Panel – and will provide a deep dive exploration into the future of IFEC and aircraft interiors. Among the companies confirmed to take part in the Symposium are Airbus, Emirates, Inmarsat, Thales, Gogo, OnAir, Global Eagle, Honeywell, Panasonic, Lumexis, Acro, Recaro and Zodiac Aerospace.
» More information on the Cabin Integration Symposium