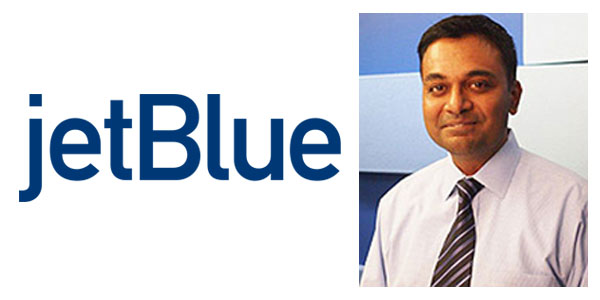 We are delighted to announce that JetBlue's Executive Vice President & Chief Information Officer, Eash Sundaram, will deliver the Day 2 Keynote in the 'Up in the Air' conference at FTE Global 2014, which will take place in Las Vegas from 24-26 September.
In his address to delegates, Eash will share how the low-cost carrier is using new technology and innovation to create the best possible onboard experience and deliver on its commitment of "inspiring humanity". So far, 2014 has been a busy year for Eash and JetBlue, with the rollout of the high-speed Fly-Fi onboard connectivity service, the launch of the Mint premium product and the sale of its leading LiveTV service to Thales.
JetBlue joins an impressive list of organisations confirmed to deliver keynotes at FTE Global 2014, including Disney Destinations, Delta Air Lines, Norwegian, Microsoft, Intel Labs and Hilton Worldwide.
» View the full FTE 'Up in the Air' conference agenda