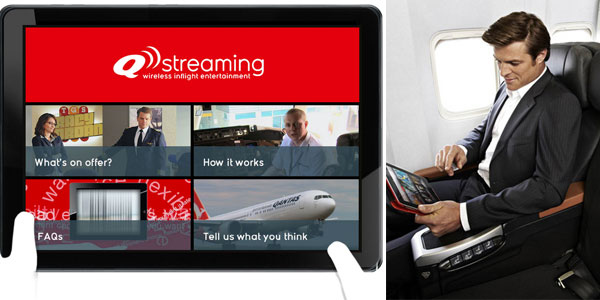 Australian carrier Qantas has revealed that it will upgrade the cabins on its Boeing 737-800s, while the in-flight entertainment (IFE) offering across the board will also be improved.
A total of 67 Boeing 737-800 aircraft will be the subject of the multi-million dollar investment. While 29 of them already offer seatback on-demand IFE, the other 38 will be equipped with Qantas' Q-streaming service, which allows passengers to stream content directly to their own electronic devices. The carrier is hoping to soon allow passengers to use their personal devices throughout all stages of the flight, pending approval from Australia's Civil Aviation Safety Authority.
"We know how important entertainment is to people when they fly and this gives every customer the choice to watch what they want to watch," said Qantas Domestic CEO Lyell Strambi. "Our new arrangement with Sky News and Foxtel means our customers will be able to watch more recent news bulletins straight to their own devices while in the air."
Strambi also explained that the 737-800 upgrades will allow the airline to increase the number of seats, which he says will not impact passenger comfort. "We will add an additional six seats at the rear of the aircraft, which is made possible by changes to the galley and lavatory space. Importantly, there will be no change to the amount of seating space each customer has. This change represents a 3% increase to the capacity of Qantas' B737 fleet."
Qantas' IFE upgrades extend beyond its 737s, and from this month, the carrier is adding more than 100 hours of content on the majority of international and domestic services.