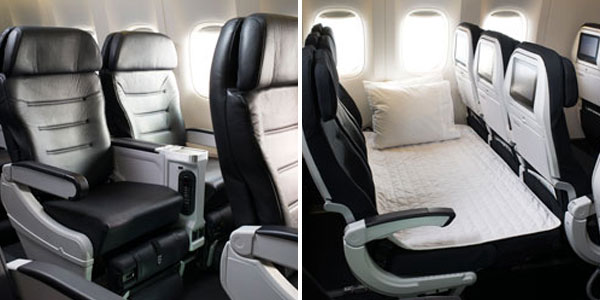 Air New Zealand's first refurbished Boeing 777-200ER has entered service, with passengers able to enjoy the carrier's new Premium Economy seats, the Economy Skycouch and the latest generation of in-flight entertainment (IFE).
The refurbishment of the 777-200ER fleet comes as the airline prepares to introduce its first 787-9 Dreamliner, which the carrier recently explained to FTE will help to "liberate travellers" thanks to inventive design and the latest products.
All eight of Air New Zealand's 777-200ERs are progressively being upgraded as part of a NZ$100m fleet refurbishment project. Business Class travellers will be able to make use of fully lie flat seats, while the aircraft are also being equipped with the Panasonic eX3 embedded IFE system.
Air New Zealand's Chief Marketing and Customer Officer, Mike Tod, commented: "From lounge upgrades in New Zealand and overseas to new aircraft, refurbished aircraft and enhanced digital experience, we are committed to reinvesting in the things our customers value."
The 777-200ER fleet upgrade, which will bring the in-flight experience in line with what passengers can experience on the carrier's 777-300ERs and 787-9s, is expected to be complete by the end of 2014.