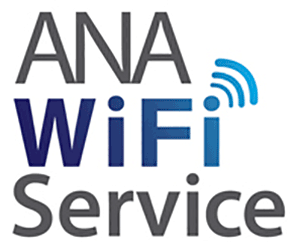 All Nippon Airways (ANA) has announced that it will extend its in-flight Wi-Fi service to up to 30 more aircraft serving international routes, including Boeing 787-8s, 787-9s and 777-300ERs.
The Japanese carrier initially introduced the ANA Wi-Fi Service on selected wide-body aircraft in March 2014, and will now start a wider rollout following a positive response from passengers.
The wider rollout will start in April 2015, while more domestic aircraft will also be equipped with the service during 2015. According to the airline, "approximately 100" domestic aircraft will offer in-flight Wi-Fi by the end of 2015. All new aircraft entering ANA's international fleet will also be Wi-Fi enabled.
Earlier in 2014, ANA announced that it was using OnAir's Wi-Fi connectivity product to offer its passengers access to an infotainment portal on their own personal devices. The airline has also partnered with JSAT Mobile Communication, which supports the Internet OnAir service, to provide the onboard Wi-Fi service.