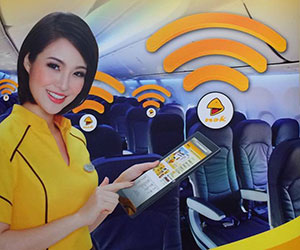 Thai low-cost carrier Nok Air has switched on its free Wi-Fi service on one of its 737-800s, and a wider rollout is planned once the service has been fine-tuned.
The Wi-Fi is being provided by Global Eagle Entertainment (GEE) and Thaicom Public Company Limited, which have jointly developed and implemented the service. Both will also offer ongoing technical support to Nok Air.
Claiming to be the "first in Asia" to offer free onboard Wi-Fi, Nok Air CEO Patee Sarasin commented: "This is a testament to our promise of being proactive in bringing new and innovative services to our passengers.
"In-flight Wi-Fi will provide our passengers with a whole new travel experience, as they can still connect to what is important to them at 35,000 feet in the air."
Nok Air's Wi-Fi service is being provided over Ku-band satellites, which GEE's CEO, Dave Davis, says "provides the optimal solution for Nok Air", as many of the carrier's destinations involve flying "over-water routes".