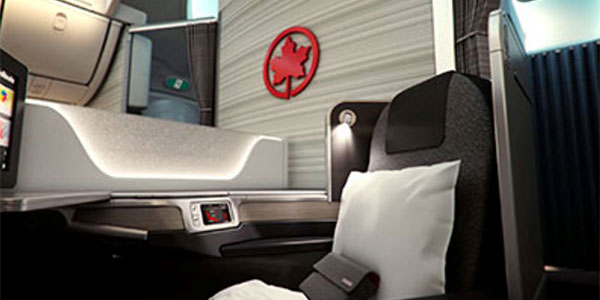 Air Canada will expand the introduction of it new International Business Class product to all of its Boeing 777-300ERs, seven more than previously announced, and will also reconfigure the aircraft to include the new Premium Economy cabin from Q4 2015.
The carrier's three-cabin international product and seating standard will be offered on all 25 of its 777-300ERs and 777-200LR aircraft consistent with seating on its Boeing 787-8 and -9 Dreamliner fleet.
Air Canada's International Business Class on its 777-300ERs will feature up to 40 180-degree lie-flat Executive Pods, each of which have a pneumatic cushion headrest that offers a massage feature, and an 18-inch personal in-flight entertainment monitor. Universal power and USB outlets are also available at each seat.
Meanwhile, Premium Economy on the 777 features 24 seats with a personal IFE screen and a universal power outlet. Economy Class features slimline seats, a personal nine-inch IFE screen and access to a power outlet.
"The introduction of our new international onboard product standard across our entire Boeing 777 and 787 fleets is a key component of Air Canada's international expansion plans," said Benjamin Smith, President, Passenger Airlines, Air Canada.
"With the conversion of our widebody aircraft we will introduce a much desired Premium Economy cabin and refurbish the International Business Class cabins of our entire Boeing 777 fleet to offer our international customers a state-of-the-art product consistent with on our new Boeing 787 Dreamliner fleet."