About the author
Mike Lemmon is Design Director at Artefact, an award-winning technology product design and development company. Mike tends to be sceptical of things that are "new for new's sake". But don't misunderstand him: you'll see his scepticism turn into enthusiasm when he's tackling challenges that are about bringing meaningful solutions that truly work to make things better. He has brought this perspective to digital products and services across industries in entertainment, health and communications for clients including AT&T, Amazon, Sonos, Samsung, Intel, Proctor & Gamble and Microsoft.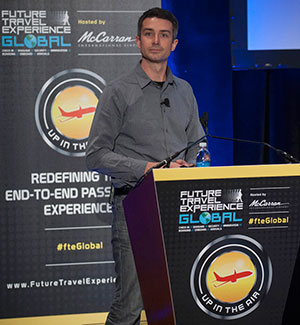 For the second year in a row, Artefact was invited to participate in the FTE Global conference, chairing and moderating a panel entitled: "Today's most progressive cabin design and onboard innovation strategies". The conference brought together participants from the three pillars of aviation: aircraft manufacturing, aircraft interior design, and the airline industry with the goal of discussing how these players can deliver differentiated experiences in such a constrained environment.
When I introduced the panel, I asked the audience whether they had experienced anything on their plane that had impressed them on their flight to Vegas. Even with a room full of industry insiders (or maybe because of it), only a few hands went up. My point being that it's remarkable how easy it is to take the privilege of air travel for granted. Despite the extraordinary feat that is air travel, being whisked across the planet is now totally mundane. This idea is what formed the backdrop of the introduction of the panel:
How can we restore a sense of wonder to air travel?
My fellow panellists were:
Ingo Gäthje, Head of Cabin Design at Airbus, one of the world's leading aircraft manufacturers.
Baden Smith, Head of Airline Business at Altitude Aerospace Interiors, which designs and manufactures interior components such as galleys, storage, and seating systems.
Marc Giles, Guest Engagement Manager, Aer Lingus, the national flag airline of Ireland.
In-flight
Consider the current in-flight seating options: there is a massive chasm between the experience in first class and the experience in coach. If you're travelling first class, you can have an absolutely stratospheric experience onboard (see recent innovations from Singapore Airlines and Etihad). But what about economy class? The deepest challenge for the industry is delivering meaningful innovations in economy class, making the onboard experience an enormous opportunity area for differentiation for the brands that can get it right. With the gravitational pull of cost driving most decisions for competitiveness, tremendous innovation in design as well as manufacturing is required to deliver. Our panellists had some interesting examples of this in action.
Ingo Gäthje of Airbus showed a short video representing Airbus' vision of air travel in 2050. It features novel aircraft forms with larger and expansive spaces for passengers, while hypothesising the use of organically-grown materials for more eco-friendly manufacturing, and pervasive use of immersive technology to provide a sense of escape while on board. While the video is a bit utopian (where are the crowds? How can we economically have a private cabin for everyone? And Jetsons-like flying pods, too?), it is surprising to see an aircraft manufacturer envisioning a future that focuses on the passenger experience in this way. This signals a shift in thinking where a manufacturer is taking a stand on what a preferable future can be, rather than leaving it to airlines to determine the ultimate cabin experience.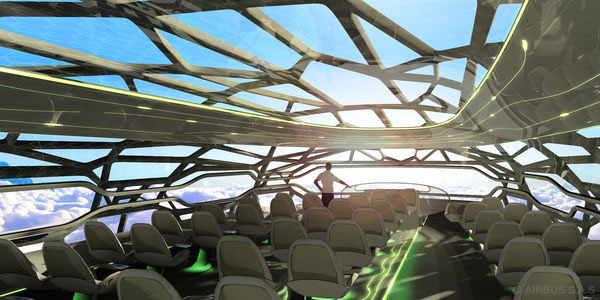 Airbus is already exploring innovations that would make these kinds of experiences possible, like the use of lighter and more functional 3D printed parts in the cabin. Gäthje also reiterated Airbus' commitment to an 18-inch minimum seat width, which is reassuring when faced with a flying population with a growing waistline, but maybe not as much as a minimum legroom requirement would be for this 6' 3" passenger.
Baden Smith of Altitude Aerospace Interiors also spoke of the opportunity to utilise more eco-friendly materials on board. He reminded us that today, much of the interior components are not really environmentally friendly, much less recyclable. Of course, sometimes this is due to very real safety concerns securing properties for fire safety, strength, and weight. But planning for the use of materials such as aluminium offers an opportunity to ensure that interiors are safe for both humans and the planet. Manufacturers such as Airbus are in a unique position to act on this, and it was surprising to see alignment on this idea coming into action with Airbus' vision.
Partnering for innovation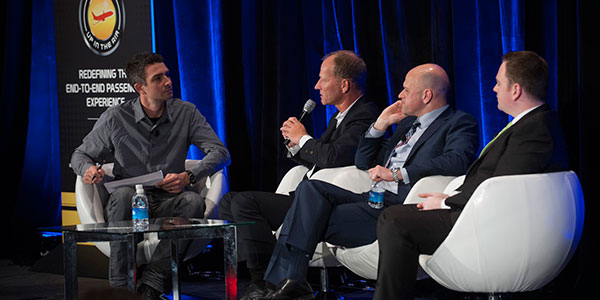 Smith offered another perspective on changing the in-flight experience centred on how successful partnerships can result in more innovative solutions. For example, Altitude worked with Air New Zealand on the SkyCouch, a row of three economy seats that give families or couples a better way to share seat space in coach. This seat provides a unique take on how to travel together, giving families a larger platform of space for lounging during the flight.
Smith also pointed out how when it comes to innovation, it's important that projects between partners have some flexibility. He notes that some of the most innovative solutions come from latitude in the project to explore the unexpected and push what's possible in new ways. In the case of a project brief between consultant and client, that trust and flexibility is necessary, and results in better outcomes for the projects (of course, the same rule applies to product design).
Innovation within constraints
Marc Giles of Aer Lingus spoke practically about being part of an airline that strives to deliver a quality passenger experience while being directly dependent on operational effectiveness. The Irish carrier has recently updated its business class experience, and Giles expanded on their process of evaluating options for seats, lavatories, and other interior components, even incorporating passenger feedback into the process. Many airlines have a limited "palette" of options to choose from, which come from vendors who need to ensure their components are all properly certified, and can work for other airlines as well to keep costs under control. This speaks to a key challenge in differentiation for airlines – too often it's about assembling different puzzle pieces in new ways. Unfortunately from the airline's perspective, it's much more challenging (and frequently cost prohibitive) to bring new pieces to the game.
Ultimately, innovation strategies are maybe held a little close to the vest, especially for the aviation industry with its decades long timelines. This can lead to a risk of insular perspectives, making it difficult for radical innovations to come from within the industry and leading to improvements being purely about optimisation rather than holistic rethinks of fundamental challenges.
However, the industry as a whole is beginning to internalise the importance of a cohesive experience across the passenger journey. This was true from some of the other sessions I attended, where customer journeys are becoming a routine tool for brands to catalogue and enhance their experience along the entire thread of their offering.
The onboard experience remains one of the most important melting pots of innovation in any industry, where passengers are literally "enveloped" in a brand, and intimately connected to its environment. What we discussed in the panel ranged from the practical here-and-now types of incremental innovation, to some radical takes on how cabins can evolve. But among the visions these various companies described it's crucial to keep human needs at the forefront. Creating an environment that is desirable for passengers, attainable for airlines, and achievable for manufacturers is a truly 21st century design challenge…just as long as there's enough legroom on the journey.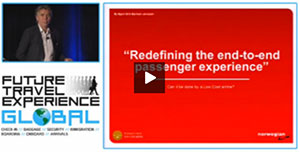 If you missed out on FTE Global 2014, you can still watch HD video footage of the 60+ speakers on-stage, alongside their presentation slides with FTE Global 2014 Virtual Conference and Exhibition Access.
For a one-off fee, you and all of your colleagues can view presentations from the likes of Airbus, Aer Lingus, United Airlines, JetBlue, Delta Air Lines, Norwegian Air Shuttle, Finnair, Boeing, Japan Airlines, Air France-KLM, Panasonic, Gogo and many other industry leading organisations.
» More information on FTE Global 2014 Virtual Conference and Exhibition Access