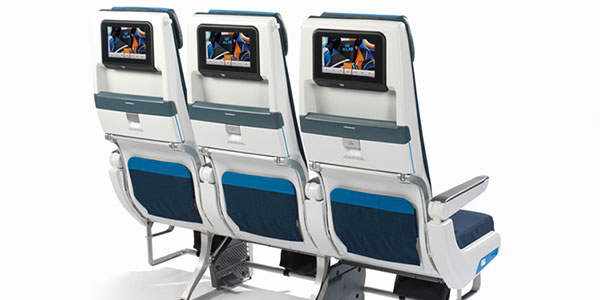 KLM's newly refurbished Boeing 777-200, which features fully renovated World Business Class and Economy Class cabins as well as a new in-flight entertainment system, has entered operation.
In Economy Class, which has been designed by renowned Dutch designer Hella Jongerius, passengers can make use of extra legroom, ergonomically optimised headrests, and a personal nine-inch, high definition touchscreen with a 'seat chat' app that allows passengers to communicate with other travellers sitting elsewhere in the cabin while they are in the air.
The renovation of all 15 of KLM's 777-200 aircraft will be completed by the end of 2015 and the carrier's 777-300 fleet will then be refurbished. Two new 777-300s featuring the new interior and IFE system will also join the fleet in 2015.
Meanwhile, the 777-200 World Business Class has been brought into line with what KLM offers on its 747 fleet. The fully flat seats offer increased privacy, while the IFE is delivered on a 16-inch screen with a touchscreen handset. The dual screen option even allows passengers to watch a movie on one screen and play a game or chat on the other simultaneously.
The palette of warm colours, extra storage space, bigger and softer cushions and luxurious blankets also contribute to a heightened level of comfort in the new World Business Class cabin.