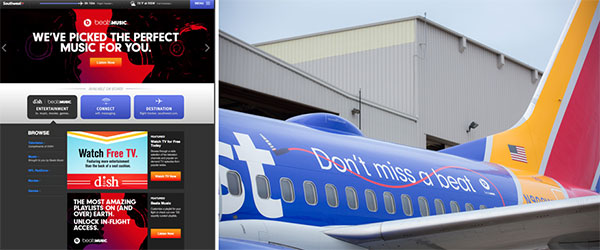 Southwest Airlines has partnered with Beats Music to offer passengers a personalised music experience onboard its Wi-Fi enabled aircraft.
Customers can access the Beats Music service using their own smatrphone, tablet or laptop, and after answering four questions about location, activity, surroundings and musical preference, they will be provided with a bespoke soundtrack from a library of hundreds of playlists.
Kevin Krone, Southwest Airlines' Chief Marketing Officer, said: "Southwest connects our customers to what is important in their lives, and in this case, it's music. We continue to enhance our onboard offerings to remain current as our customers' needs evolve, and with the addition of Beats Music on our entertainment portal, we're doing just that."
To promote the partnership, passengers on two Southwest flights were this week treated to a live performance onboard. On a flight from Dallas Love Field to Chicago-Midway, dance-pop band Cobra Starship performed for passengers, while those onboard a flight from Portland to Denver had front row seats to an in-flight gig by folk music group Elephant Revival. The Boeing 737 with a special Beats Music livery will fly for the next six months to help promote the partnership.
Passengers can stream the Beats Music playlists via their own devices through the carrier's in-flight entertainment portal.