Air France and Orange will offer Wi-Fi access onboard two Airbus A320s on short and medium-haul networks during a three-month trial phase, from summer 2015.
For a small fee, the Wi-Fi access offered by Orange will allow passengers to surf the internet, read their emails, watch live TV, or enjoy their favourite series. Travellers will be able to use their laptops, tablets or smartphones to connect via Wi-Fi to the internet or a portal offering a wide choice of entertainment, including live TV, movies, series and music, as well as practical information such as connecting flight times and services available at the destination.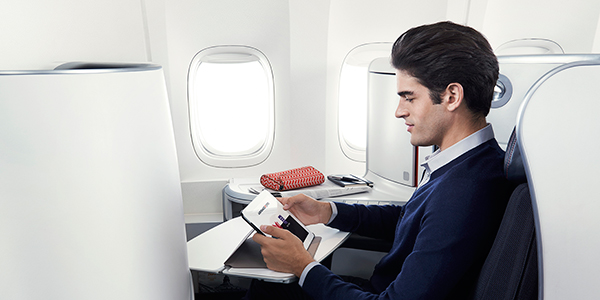 Frédéric Gagey, Chairman and CEO, Air France, said: "Being permanently connected has become an integral part of many of our customer's daily lives, notably for business travellers on our short and medium-haul flights. This innovative project conducted in partnership with Orange intends to meet this high expectation as closely as possible. With the Wi-Fi offer onboard our aircraft, we hope to remain at the cutting edge of developments in digital technology."
Delphine Ernotte Cunci, Deputy Senior Executive Orange France, said: "Inflight Wi-Fi is something that everyone is eager to experience and we are very happy to be able to meet their expectations, thanks to this project conducted with Air France. This is a new demonstration of the Orange group's capacity to innovate, which is mobilising all its expertise in the area of networks, content and business."
As part of this joint project, Air France Industries is in charge of installing the equipment required for operating and maintaining the Wi-Fi service on the two aircraft. Orange Business Services will oversee the technological solution, from the supply of the satellite network, which allows a Wi-Fi connection onboard, to the portal accessible by passengers.