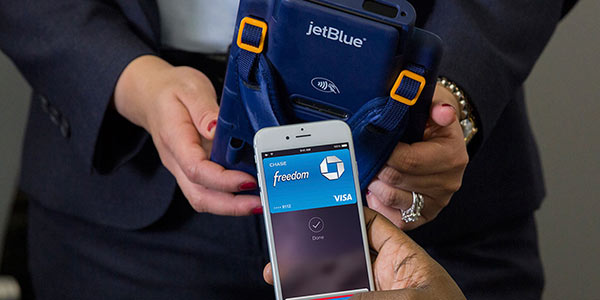 JetBlue Airways will be the first airline to accept payment via Apple Pay for onboard purchases, including certain food and beverage products and 'Even More Space' seat upgrades. Passengers with an iPhone 6, iPhone 6 Plus or an Apple Watch, which will be launched in the US shortly, will be able to make use of Apple Pay, which offers secure, Near Field Communication (NFC)-enabled contactless payment using an Apple device.
Commenting on the development, Marty St George, Senior Vice President, Commercial at JetBlue Airways said the carrier has decided to embrace Apple Pay in response to the fact that "customers want an easy and fast transaction when they decide to make an on-board purchase so that they can get back to enjoying their flight".
Apple Pay will begin appearing on select JetBlue transcontinental flights from New York to Los Angeles and San Francisco in mid-February and will be available on all JetBlue services by June 2015. Later this year, Apple Pay will also be added to JetBlue's app.
To enable Apple Pay onboard, JetBlue will equip more than 3,500 flight attendants with iPad minis and NFC-enabled cases. The iPad minis will also be loaded with the carrier's Inflight Service Assistant app, which provides access to customer manifest and real-time flight data, and also makes its easier for crew to identify TrueBlue and Mosaic loyalty members.
"JetBlue has always stood out because our crewmembers care about our customers," said Joanna Geraghty, Executive Vice President, Customer Experience, JetBlue. "By giving crewmembers thoughtful ways to use technology, we can support an even more personalised onboard experience with a perfect partnership of high tech and high touch."