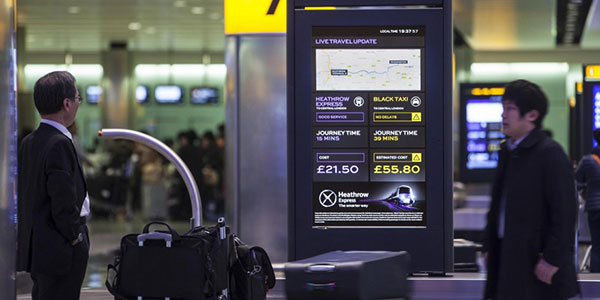 Digital smart screens have been installed in the baggage reclaim hall at Heathrow Airport's Terminal 2 to help passengers identify the most suitable form of onward transport while they're waiting for their bags to arrive on the reclaim belt.
The digital screens display a so-called "journey comparison generator", which combines real-time traffic, weather and rail service information to generate live travel times and costs for taxis and the Heathrow Express train service to Central London.
The initiative is the result of collaboration between Heathrow Express, JCDecaux Airport UK and media agency DOOH.com, and leverages information from TomTom, Heathrow Express, Google, the Highways Agency and the Met Office.
Initially available in English, the smart screens will soon display the information in multiple languages, with the comparisons translated into the native language of the majority of passengers on the arriving flight. It will also be introduced in terminals 3 and 5 later this year.
Fraser Brown, Heathrow Express Director, said: "The aim of the 'journey comparison generator' is to enable Heathrow passengers to get into London as speedily, easily and as cheaply as possible." Unsurprisingly, Brown also points to research that "shows Heathrow Express trains are three times faster than taxis and a quarter of the price".
It is worth noting, though, that for a group of three or more people sharing a taxi, it may well end up being the cheaper option, and offers the benefit of delivering you to the front door of your destination, even if does take slightly longer than the train. Either way, presenting passengers with more choice, and making information as easily accessible as possible, can only be a good thing for travellers.