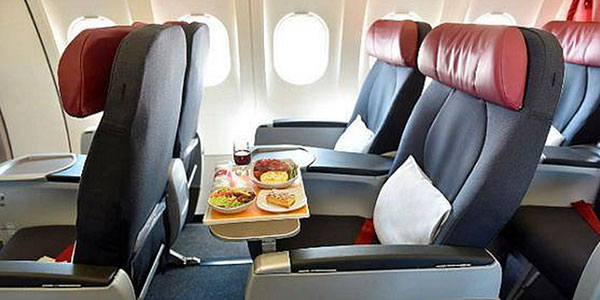 Air Canada has announced a raft of upgrades for the Air Canada rouge Airbus A319 fleet, including an improved Business Class product, enhanced in-flight entertainment (IFE) and more overhead stowage space for cabin bags.
The Business Class cabin on 20 Airbus A319s will be retrofitted by mid-June, with the existing 3×3 seating configuration with the middle seat left empty replaced with a 2×2 configuration, which will increase personal space and legroom. Premium passengers will also have access to a personal power socket and USB port, while a centre console and pop-out cocktail tray will be added in between the seats. The new seats will be pitched at 36 inches and will be 18 inches wide.
New so-called "pillow doors" will be retrofitted to the overhead bins, creating more space for cabin bags by making more efficient use of the space. The IFE system on the A319s and Boeing 767s will also be upgraded, so more passengers can use the "player" wireless IFE system.
Benjamin Smith, President, Passenger Airlines at Air Canada, said: "The new business class seating on rouge Airbus A319 aircraft provides our premium leisure customers with more space and comfort and, together with complimentary bar and meal service, is in line with our award winning Air Canada Business Class.
"These product improvements, including Business Class seating offering the same or more space than equivalent seating on wide-body rouge Boeing 767 aircraft, provides customers with a market leading premium leisure product in North America."