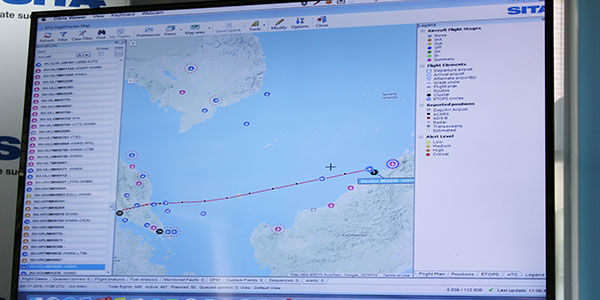 Singapore Airlines, Norwegian Air Shuttle and Royal Brunei Airlines have signed up to SITA OnAir's aircraft tracking service and will start to deploy the solution across their fleets immediately.
AIRCOM FlightTracker uses multiple sources of data, including air traffic control data, so airlines can guarantee tracking intervals of 15 minutes or less for every flight. It was developed after IATA and ICAO called for the development of global aircraft tracking technology following the tragic events of 2014.
As Ian Dawkins, CEO of SITA OnAir, explained, the product uses existing equipment and can be installed in a matter of days for the 90 airlines that already subscribe to the AIRCOM FlightMessenger service.
He said a total of 15 airlines have already signed up – Singapore Airlines, Norwegian Air Shuttle, Royal Brunei Airlines and Malaysia Airlines, plus 11 as-yet unnamed carriers – and later this year deviation alerting will be added to the service, automatically alerting an airline if an aircraft deviates from its original flight path.
Geir Steiro, Chief Operating Officer at Norwegian Air Shuttle, said: "Safety is paramount for a solution like this. FlightTracker's automated alerting system allows us to manage our fleet of 100 aircraft and the additional 200 that will enter the fleet in the coming years safely and efficiently. A bonus feature is the unique way it integrates ATC data into our systems – it will give us valuable insight into our operations and how we can improve them."
Dawkins also explained that airlines can choose to track aircraft at more frequent intervals; 15 minute intervals is the recommendation from IATA and ICAO, but this could be reduced to, say, every minute if the airline wishes. He also revealed SITA OnAir is undertaking trials of real time streaming of black box data.