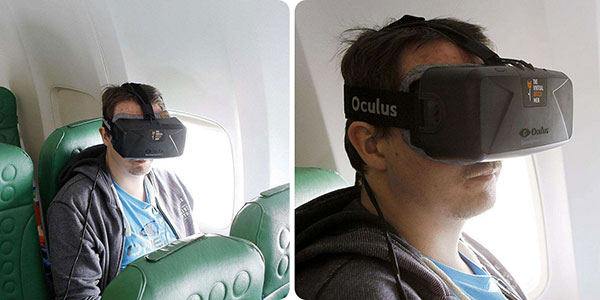 The jury is still out on virtual reality in-flight entertainment (IFE) – some think it holds great potential, but others see it as nothing more than a gimmick – and Transavia has become the latest carrier to explore the potential benefits of the immersive technology.
On 21 May, passengers flying with Transavia from Amsterdam to Barcelona had the chance to try out the Oculus Rift DK2 during the flight, and Roy Scheerder, the airline's Commercial Director, has now revealed to FTE that more trials are planned following the "very positive" reaction. He explained that up to five "qualitative tests" will now be undertaken, before the results are analysed and the next steps are planned.
During the trials, passengers are able to enjoy a variety of content, including a virtual cockpit tour, a virtual cinema experience in which the passengers can watch a movie in an empty cinema surrounded by aircraft seats, and a virtual hang-glider experience in which they are floating above the earth, watching the landscape below. The latter also includes a fly-by by a Boeing aircraft.
Excitement or escapism?
Interestingly, Scheerder explained that based on the first trial, it seems different passenger types prefer different types of virtual reality IFE content. "Virtual reality is very immersive and as such we get great reactions about the technology itself," he said. "We are testing three concepts and already see that different customer groups have strong preferences and ask for relevant content.
Our more frequent passengers seem to develop a preference for entertainment, in our test case the cinema experience. And our less frequent flying passengers really go for the cockpit and hang-glider experience, preferring excitement over escapism. These are some of the first findings that need to be validated more rigorously."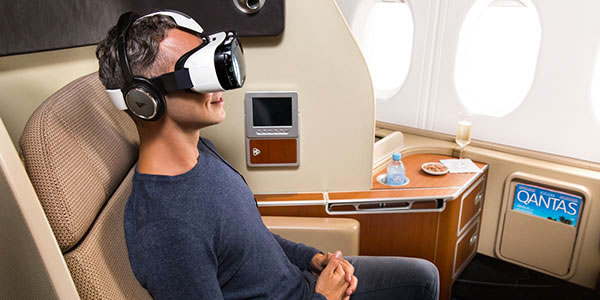 Transavia is not the airline currently exploring the benefits of virtual reality entertainment. Qantas is trialling Samsung Gear VR headsets both in airport lounges in Sydney and Melbourne, and in select A380 premium cabins.
A spokesperson recently confirmed to FTE that what started as a three-month trial has been extended, and the carrier continues to assess the feedback from those who take part in the trial as it weighs up any potential longer-term benefits.
'A fully digital onboard experience'
As for Transavia, the focus is on the first batch of trials, but Scheerder told FTE he does see long-term benefits, suggesting that virtual reality IFE is not just a short-term fad. "For now we are still focused on our process of validated learning before determining the next step. We see the potential of new technologies like virtual reality as they provide an immersive and extremely memorable experience, and therefore we are now finding out what this will mean for us in the near future.
"In the short-term, it's likely to be more of an add-on to enhance a fully digital onboard experience, rather than a replacement for other forms of entertainment. But we are convinced it is going to make a big impact on air travel in the coming years."
With Transavia throwing its weight behind the benefits of virtual reality IFE, and Qantas extending its trial due to the popularity of the initial pilot, those who have already written off the technology as mere gimmick or fad may just be tempted to reconsider their verdict.