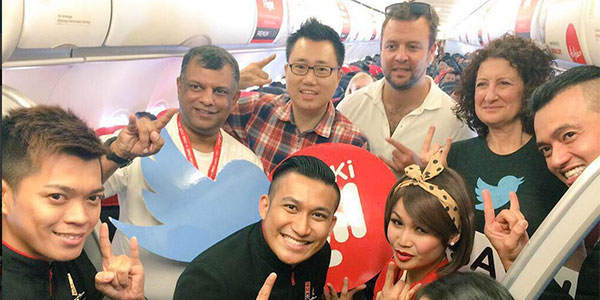 AirAsia has expanded its onboard connectivity offer and now allows passengers to access Twitter on selected flights. The low-cost carrier partnered with roKKi to launch the roKKi Chats Instant Messaging (IM) package late last year, which can be purchased for RM9 (US$2.40) for 3MB of data.
The package includes access to apps such as WeChat, WhatsApp, LINE and KakaoTalk, and now Twitter has also been added to line-up. According to AirAsia, the connectivity service is available on almost 4,000 flights per month, and is being rolled out more widely.
Adrian Lim, CEO of roKKi, said: "We're delighted to have Twitter join the roKKi family. Our focus has always been to provide airline partners with cost-efficient IFEC services and to ensure guests have access to exciting entertainment onboard.
"Providing guests access to the latest Tweets from 10,000 feet above sea level is another milestone for us. Chatting, whether through IM apps or social media, is an integral part of our lives and our aim is to help everyone stay connected even while they're above the clouds."
Sami El Hadery, Co-Founder of Tune Box, roKKi's parent company, Tweeted that the launch went well and said a new roKKi video service is coming soon.