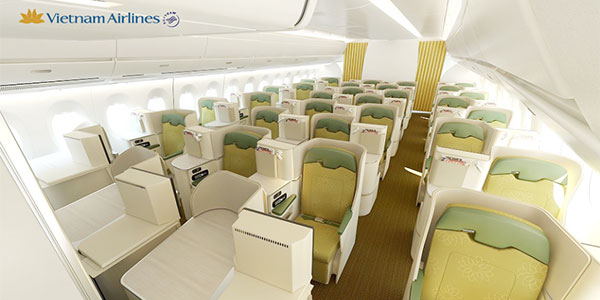 Vietnam Airlines has become just the second airline in the world to operate the new Airbus A350 XWB and now has its sights set on a wide-reaching upgrade to its long-haul fleet. Qatar Airways became the first carrier to operate the A350 at the start of 2015.
The aircraft, which has initially been deployed on the Hanoi-Ho Chi Minh domestic sector ahead of serving the Hanoi-Paris route, is configured in three classes. Business Class features 29 seats that convert into fully flat beds, Premium Economy features 45 seats and Economy Class includes 231 seats. It is the first of 14 A350s that Vietnam Airlines has on order.
Trinh Ngoc Thanh, Executive Vice President, Commercial, Vietnam Airlines, commented: "The arrival of the A350 XWB marks the start of a major upgrade of our long-haul fleet. Combining the latest technologies, a wider cabin and the highest levels of comfort, the A350 XWB will enable us to fly our passengers in style whichever class of travel they choose.
"We are proud to be the second airline in the world to receive the A350 XWB, which is a step forward that helps us to fulfil our commitment to 'reach further'."