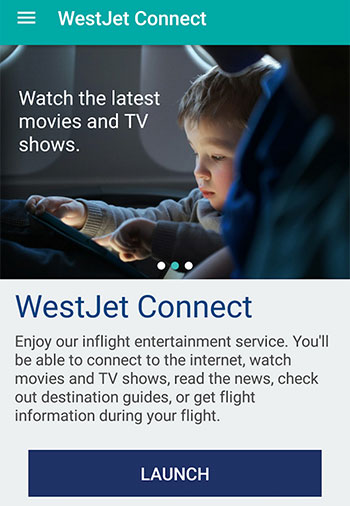 WestJet has confirmed that it has started the process of rolling out its new wireless in-flight entertainment (IFE) and connectivity system, WestJet Connect. The system will be activated on the carrier's Boeing 767ER aircraft and select Next Generation 737 aircraft by the end of 2015, before the rollout across the 737 fleet continues in 2016. The rollout comes after last year's announcement by the carrier that it had partnered with Panasonic Avionics on wireless IFE and connectivity.
WestJet Connect can be accessed on iOS and Android smartphone and tablets via the latest version of the airline's app, and passengers will also be able to access the content on their laptops. Passengers who do not have their own device will be able to rent tablets on flights longer than three hours and 20 minutes.
At launch, the system will feature 85 movies and 329 television programmes, plus three live TV channels. To ensure passengers don't have to worry about their battery life, all seats on the WestJet Connect-equipped aircraft will offer access to 110-volt and/or USB power outlets.
As for the in-flight Internet access, which is powered by Panasonic Avionics' eXConnect, passengers will be able to connect for $7.99 plus taxes for the duration of the flight, although WestJet has stated this is an "introductory price".
Bob Cummings, WestJet Executive President, Commercial, said: "The launch of WestJet Connect is an important step in the evolution of our guest experience. Business travellers will appreciate Internet connectivity with global reach that's not limited to terrestrial towers over land; they have the opportunity to be constantly in contact anywhere in WestJet's world.
"WestJet Connect is also a great solution for our leisure travellers. Personal electronic devices have become universal and our guests now have access to hundreds of movies and TV shows right to their own device, which will make travelling with the whole family a breeze. Also, our live television channels will enable business and leisure travellers to stay in touch with real-time business and other news."
The carrier has stated that WestJet Connect will continue to evolve over time, with more live TV channels and 3D moving maps among the key features that will be added.