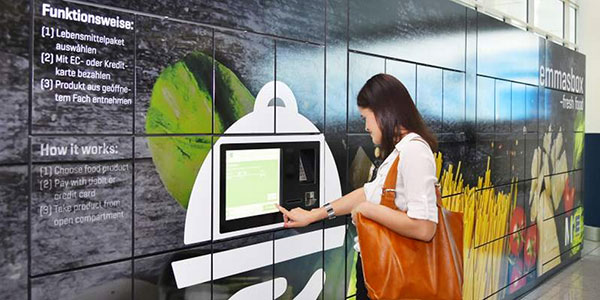 A new shopping concept called "emmasbox" is currently being trialled in the baggage reclaim area at Munich Airport as part of an effort to improve the arrivals and post-travel experience for passengers.
Emmasbox is essentially a huge fridge containing more than 60 individual drawers, each of which contains meals and ingredients, which passengers can purchase before they leave the baggage reclaim hall in Terminal 2. The drawers are kept at different temperatures, which allows a variety of foods to be stored, ranging from sushi to a Bavarian Menu option, which includes sausages with sauerkraut and a can of soup.
A total of seven different shopping bags are on sale, and once passengers have paid for their products using a credit card, the drawer will be unlocked and they can collect their items.
The trial is being carried out by the Innovation Management of Munich Airport and Edeka, a German supermarket corporation. The idea behind it is to allow passengers to do their grocery shopping while they wait for their bags, rather than having to stop at a supermarket on the way home after a business or leisure trip.
Passengers will be able to use emmasbox for a four-month period, before Munich Airport assesses uptake and passenger response with a view to permanently implementing the service.
This tie-up between Munich Airport and Edeka is not the first time an airport has teamed up with a supermarket to trial an inventive shopping concept. Back in 2012, Gatwick Airport and Tesco trialled a "virtual store" in the North Terminal Departure Hall, but a permanent implementation of the service didn't follow.