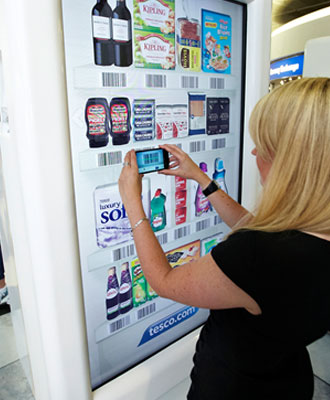 Tesco has opened the UK's first virtual grocery store at Gatwick Airport, allowing passengers to order items using their smartphone and arrange for them to be delivered to their home address once they arrive back from their holiday or business trip.
Four interactive virtual screens have been installed in the North Terminal departure lounge. Passengers can browse the products by scrolling through the large virtual shelves and fridges and if they wish to buy the item, they simply have to scan the item's barcode. They can then book a delivery slot to coincide with their return home.
The innovative shopping experience is initially being trialled for two weeks and follows Tesco's successful implementation of a virtual store in South Korea last year.
Spencer Sheen, Head of Retail at Gatwick Airport said: "We all know how it feels when we arrive back home from a holiday, only to face an empty fridge or cupboard containing none of the key essentials like milk, butter or bread. This is why we are really excited to be working with a forward thinking brand such as Tesco. What they're offering our passengers is a shopping experience that is easy and convenient so they have one less thing to think about when they get home."