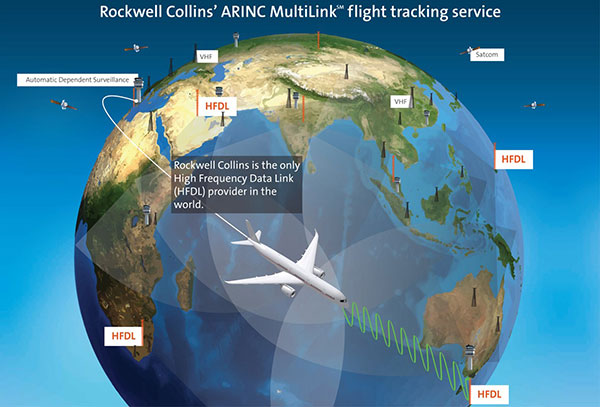 Aeromexico has been announced as the launch customer for Rockwell Collins' ARINC MultiLink flight tracking service, following the successful completion of trials.
The service supports flexible position reporting frequency, enabling it to provide position reports at least every 15 minutes for flight operations in oceanic and other remote areas. Airlines that use the service can also receive notifications when an aircraft has unexpectedly stopped reporting positional data, or if an aircraft has deviated from its expected path.
ARINC MultiLink merges FANS ADS-C, ACARS, ASDI, Satcom, ADS-B and HFDL to provide accurate flight tracking, and it is designed to meet IATA, ICAO and FAA recommendations for tracking.
Benjamín Hernández, Director Corporate Technological Development at Aeromexico, said: "We fly a number of routes that are outside US Aircraft Situational Display to Industry (ASDI) radar. ARINC MultiLink brings together multiple data sources, allowing us to fine-tune the information we receive to reliably report the location of our fleet of aircraft globally."
Yun Chong, Vice President, Commercial Aviation Services at Rockwell Collins, added: "Feedback from our customers is that ARINC MultiLink is an extremely effective way for an airline to improve flight tracking without increasing its data link traffic, and thus costs.
"Aeromexico is currently using Rockwell Collins' ARINC Web Aircraft Situational Display (WebASD) enabling it to quickly, easily and very cost-effectively deploy our flight tracking solution."