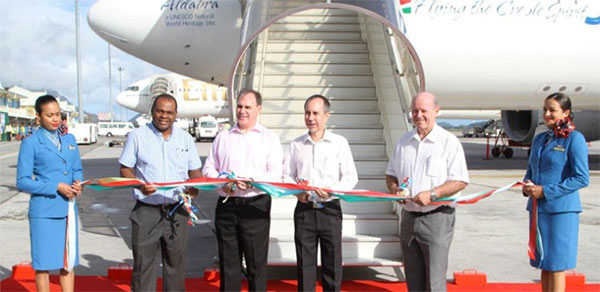 Air Seychelles passengers flying on the carrier's first Airbus A330 registered under the Seychelles civil aircraft register will be able to make use of the "HM Connect" service. The suite of in-flight connectivity services, powered by FTE Asia EXPO 2015 exhibitor Panasonic Avionics, enables passengers to connect to the Internet through onboard Wi-Fi or mobile data.
The new A330, which is named "Aldabra" after one of the largest coral atolls on the planet, was previously registered under Etihad Airways, which owns a 40% stake in Air Seychelles. The aircraft is configured with 18 Business Class and 236 Economy Class seats.
Roy Kinnear, CEO of Air Seychelles, said the new A330 "lays a strong foundation for more growth" and lauded the positive impact that the connected aircraft will have on the passenger experience.
"Guest experience remains a key priority for us and we are pleased to have also upgraded Aldabra with state-of-the-art technology that allows our business and leisure travellers to stay connected throughout their journey," he said.
Joël Morgan, Minister of Foreign Affairs and Transport, and Chairman of Air Seychelles, also highlighted the importance of the partnership with Etihad Airways to the carrier's future ambitions. He said: "The support in flight operations, training of pilots and cabin crew by Etihad Airways continues to be instrumental in the ongoing development of Air Seychelles, and we remain appreciative to have such a close partner on our side."