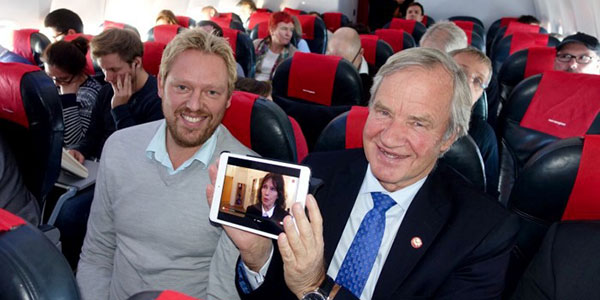 Norwegian Air Shuttle – the low-cost carrier that brought free onboard Wi-Fi to Europe for the first time in 2011 – has now achieved another significant European first with the launch of a live TV service, which will be available on 87 of the airline's aircraft.
The service was launched on 23 November on a flight from Oslo to Berlin and will now be available on flights from the UK to a total of 29 destinations around Europe. Powered by Global Eagle Entertainment's Airconnect Inflight Connectivity platform, the live TV service will offer passengers access to two news channels – Bloomberg Television and TV2 News – via their own devices, and will initially be trialled over a 12-month period on flights departing from Gatwick, Edinburgh, Birmingham and Manchester airports. The service will only be available on Norwegian's short-haul services, as its 787 Dreamliners are not equipped with a connectivity service.
Delivering a consistent, reliable live TV service
For travellers outside of Europe, live TV is nothing new – a raft of airlines from JetBlue and Southwest in the US to Emirates and Etihad in the Middle East – have offered live TV onboard their aircraft for some time. However, in the European market, where even inflight Wi-Fi is still a relative luxury rather than the norm, the Norwegian carrier has stolen a march on its competitors by bagging another headline-grabbing first. The challenge it faces now, though, is ensuring that it can deliver a consistent and reliable live TV service.
How exactly it plans to do this is the question FTE put to Global Eagle Entertainment's Aditya Chatterjee, the company's Chief Technology Officer. "GEE and Norwegian Air Shuttle worked very closely in preparation for the trials and the launch of live television aboard Norwegian's flights across Europe," he said. "We have ensured that the ground infrastructure, the teleports, software upgrades for the live television capability, the satellite capacity are all in place to provide a great live television experience for Norwegian's passengers."
Chatterjee also claimed that the system has the capability to support live TV viewing for all passengers concurrently. "While there are some variations depending on the smartphone or tablet being used by the passenger, GEE has the technology and the platform in place to enable everyone on the plane to view the live television service simultaneously," he explained.
When contacted by FTE, Norwegian explained that the live TV service will, in fact, be limited to 100 passengers per aircraft at any one time. "Each of our Boeing 737-800 aircraft has two wireless access points (WAPS), each supporting up to 50 simultaneous devices. Therefore, on each aircraft, up to 100 devices can simultaneously stream live TV using our free inflight Wi-Fi," the carrier stated.
Creating a business case
If Norwegian's trial of live TV proves to be a success, the pressure will be on other European carriers to offer a similar service of their own, and Walé Adepoju, Global Eagle Entertainment's Chief Commercial Officer, explained to FTE that airlines should not necessarily view such services as a cost centre.
He said: "Sponsorships will play an important role in the live television offerings, including entertainment packages that complement free Wi-Fi services. The live TV services aboard Norwegian's flights in Europe, for example, are sponsored by a Norwegian Terrestrial and OTT operator called RIKS TV, through a contract with GEE."
While Norwegian may have found a way to foot the bill for its live TV trial, it will ultimately be judged not on whether it can make the service add up from a financial standpoint, but whether it really can deliver high-quality live TV on all flights within Europe, and whether it has a positive impact on the customer experience. The airline's CEO, Bjørn Kjos, says the launch of live TV means "we are setting the stage for a passenger experience like no other in the sky". Time will tell as to whether the airline can live up to this claim.