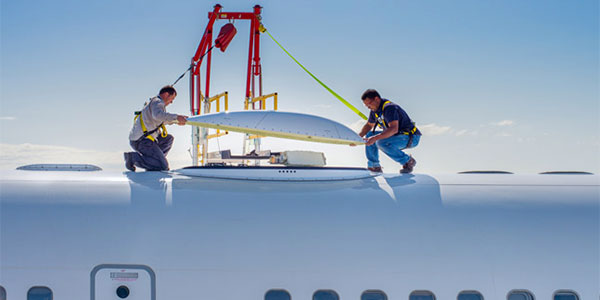 The U.S. Federal Aviation Administration (FAA) has granted approval to Honeywell Aerospace's JetWave wireless in-flight connectivity system for the Boeing 757 in another important milestone for Inmarsat's Global Xpress (GX) network. JetWave is the exclusive hardware for aircraft to connect to the high-speed Global Xpress satellite network.
The certification of Honeywell's JetWave hardware was achieved following more than 180 flight hours and multiple tests aboard Honeywell's Boeing 757 test aircraft.
"The ability to connect with others is not a luxury anymore; it's an expectation of both passengers and pilots alike," said Jack Jacobs, Vice President of Safety and Connectivity at Honeywell Aerospace. "This first commercial certification for Honeywell's JetWave hardware is a leap forward in making the system available commercially and accelerating access to reliable and fast connectivity for airlines and passengers traveling across the world."
Leo Mondale, President of Inmarsat Aviation, added: "The entry into service of GX Aviation this year will mark an important turning point, allowing passengers in the air to browse the Internet, download files and watch videos online, just as they would on the ground. The certification of Honeywell's JetWave hardware is a key milestone in the programme and we congratulate our partner on this achievement."
At present, confirmed customers for the GX Aviation connectivity service include Qatar Airways, Jazeera Airways, Vietnam Airlines, Lufthansa and Air Caraibes.