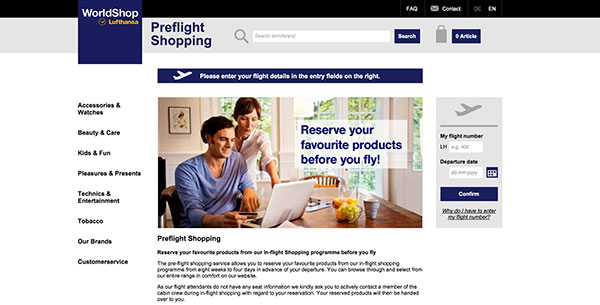 January has been a busy month for German flag carrier Lufthansa. Not only has the airline become the first to take delivery of the new Airbus A320neo, it has also introduced two new services for passengers.
Firstly, Lufthansa has decided to overhaul its approach to e-journals. Three days before departure, passengers can log onto Lufthansa's eJournals website and select and download two digital newspapers or magazines of their choice to their smartphone, tablet or e-reader. The complimentary service was launched in Lufthansa's premium lounges last year, but has now been extended to all passengers.
The carrier now plans to introduce a tiered level of service depending on travel class and frequent flyer status. For instance, business class passengers will be able to download more free content than economy passengers. While the service is partly a response to the increasing number of travellers flying with at least one personal electronic device, having to carry fewer print publications will also provide fuel savings.
In addition, Lufthansa has this month launched a Preflight Shopping service. Passengers can browse and reserve items on the airline's website up to four days before departure. Any reservations are non-binding, which means passengers can change their mind once on board the aircraft if they decide they don't want the product after all.
Frequent flyers also have the option of paying for their purchases using their Miles & More miles. The service is available on all long-haul flights and selected short-haul European services.