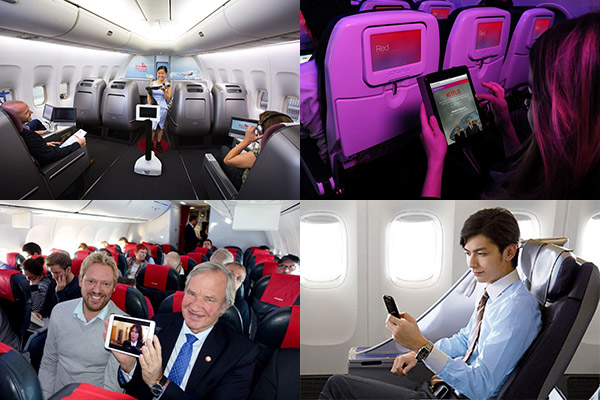 In-flight entertainment (IFE) has long been a key component of a positive passenger experience, but at no point in the past has the market experienced so many developments in such a short space of time. While traditional seatback IFE is surely here to stay, myriad options in terms of both the content itself and the way it is delivered are presenting airlines and their customers with more choice than ever before.
Hollywood movies and Early Window Content remain a staple, particularly on long-haul services, but the rise of Bring Your Own Device (BYOD), pre-flight IFE downloads, live TV at 30,000 feet and partnerships with content streaming services are changing the game, while passengers are also keen to have access to a more diverse range of content, from educational courses to short films to help them relax.
The JetBlue/Amazon Prime and Virgin America/Netflix partnerships have been well documented as IFE differentiators, but many more airlines are going the extra mile to make their IFE offer stand out from the crowd. Qantas, for instance, last week hosted the first in-flight TED talk. Thanks to a partnership with TEDxSydney, four technology and science innovators shared their visions for the future of technology and design in a series of talks held in the nose of a Qantas B747 flying from Sydney to San Francisco. The talks were also streamed live to the seatback in-flight entertainment system throughout the aircraft.
This may well have been a marketing stunt by the Australian carrier, but it certainly points to a larger trend of in-flight education. Virgin Australia recently partnered with Open Universities Australia to offer its passengers access to Open2Study educational courses via its wireless IFE system, while the likes of British Airways offer access to a range of language audio books to support passengers who wish to learn a new language.
Also, as airlines adopt high-speed in-flight connectivity solutions, live TV is becoming a more common IFE option. This may already be a familiar feature on US domestic services, but further afield it remains very much a value-add. From ANA to Norwegian Air Shuttle to Qantas, airlines across the world are investing in live TV solutions.
ANA Vice President, Products & Services Koji Oka said the introduction of live TV on domestic services shows that the carrier wants to "push the envelope to ensure the best in-flight experience for our customers". Qantas CEO Alan Joyce was equally keen to point out the IFE-related benefits of its recently-announced connectivity partnership with ViaSat, saying: "This kind of in-flight connectivity would also open up a lot of potential to improve in-flight entertainment, which we're constantly looking to enhance." He added: "You won't be limited to checking your email or Facebook – it's going to be about watching the football live, streaming your favourite TV show or movie, catching up on the latest YouTube videos, or shopping online."
Gauging the impact on IFE content providers
The wide array of IFE content on offer is great news for travellers, but what about the major content providers? Speaking to FTE, Walé Adepoju, Chief Commercial Officer, Global Eagle Entertainment (GEE), recognised the on-going evolution in this space. "While Hollywood movies are certainly a very important piece of a compelling and relevant airline IFE content line-up, and GEE has long provided the airlines with everything Hollywood produces, they're only part of an engaging passenger experience," he stated. He said GEE has "teams of IFE content specialists digging into some of the very latest music and movie creations in every corner of the world", ranging from Latin America to China, to satisfy the demand for local content. "Airline passengers from these parts of the world, like passengers from the US and Europe, are swiftly becoming more sophisticated and discerning in-flight entertainment audiences. They want content that is fresh and relevant to them," he explained.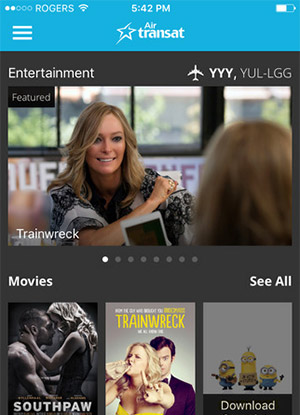 But what does Adepoju think of the rising role of the likes of Amazon Prime and Netflix onboard aircraft, and does this trend provide a threat to those who provide movies, music and TV programmes to airlines? "If an airline is going to truly differentiate itself in today's fiercely competitive market, the use of a compelling and relevant mix of media is an extremely important voice and reflection of an airline's brand. The Netflix model requires a lot of bandwidth and is only part of a complete IFE experience," he said. "To enhance customer experience using media, the key is to customise whilst reflecting the values and brand of the airline. Airline passengers want more specific, tailored music, games and movies that they really connect with and enjoy.
"What keeps me up at night isn't can we match what Netflix or Amazon are doing, it's the fact that kids across the world are downloading content they really like off the Internet," he continued. "Much of it is being produced by individuals or small, independent film makers, who are really having an impact in the world and increasingly in the skies above it. GEE is laser focused on finding what this youthful audience of two billion people is watching on YouTube and other popular sites so we can quickly add it to our dynamic IFE content platform and offer it up to our airline partners."
Further highlighting the new IFE options airlines are presented with nowadays, Adepoju pointed to the Airtime Content-to-Go app, which can now be used by Air Transat passengers to download movies to their own devices before travelling. "A great passenger experience is built around choices," he stated.
And this point, that passenger experience and choice go hand in hand, is a vital aspect of all of the developments in the IFE space. Whether we're talking about Netflix or live TV, local movies or music, pre-flight downloads or Hollywood blockbusters, passengers are being given more choice of how to spend their time in-flight. In fact, in many cases, passengers who would never have had access to any form of IFE – on short-and medium-haul flights, for instance – are increasingly being offered at least one form of entertainment.
Airlines' ambitions to offer a wide variety of IFE content and consumption methods, passengers' demands for IFE on flights of all lengths, consumer streaming companies' desire to gain a share of the IFE market, and traditional content providers' efforts to offer a compelling portfolio that carriers can't afford to ignore are collectively driving standards upwards in the IFE space. Whichever way you look at it, the best part of this IFE evolution is the fact that it can only be a good thing from a passenger experience point of view.