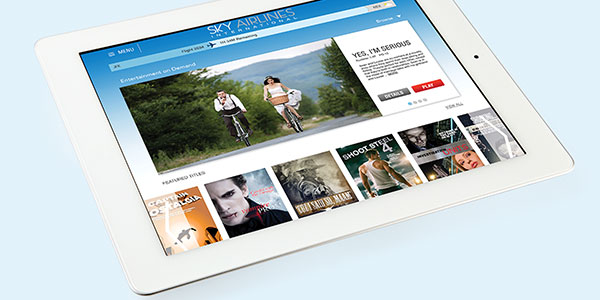 Gogo will soon provide closed captioning on its in-flight entertainment (IFE) streaming content, having reached an agreement with the National Association of the Deaf (NAD). The agreement covers all content sourced by Gogo and delivered through the Gogo Vision platform.
Passengers will have the option to display closed captions and Gogo will now start the process of replacing all of its existing sourced content with content that has closed captions. This process is expected to be complete by June 2017. Meanwhile, Gogo is also sourcing new content with closed captions available.
"This is a monumental step in making in-flight entertainment accessible to the 48 million deaf and hard of hearing people in the United States alone," said Howard Rosenblum, CEO of the NAD." He added: "The NAD is thrilled by Gogo's decision to make the in-flight entertainment experience equally accessible to deaf and hard of hearing passengers."
Gogo's Ash ElDifrawi, Chief Commercial Officer, commented: "Watching movies on a passenger's own device has become a very popular product for Gogo and we are excited to provide access to this product to the deaf and hard of hearing."
Arlene Mayerson, Disability Rights Education and Defense Fund, Inc.'s (DREDF) Directing Attorney, who represents the NAD, said the DREDF now "urges other in-flight entertainment providers to follow Gogo's pioneering example".