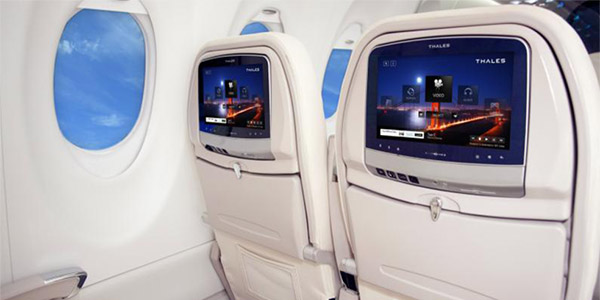 Singapore Airlines has opted to equip its Airbus A350 XWB aircraft with Thales' Android-based AVANT in-flight entertainment (IFE) and Ka-band connectivity solution. Delivery of the system will begin in 2018.
According to Thales, the seatback AVANT system will provide passengers with "access to a wide selection of connected applications, seamless personal device integration allowing a home experience in the air, high power USB charging and NFC technology".
In the premium cabins, passengers will be able to make use of the latest version of the Thales Touch Passenger Media Unit, known as Avii, which provides intuitive navigation, a full android smartphone look and feel, and acts as a second screen.
Commenting on the deal, Dominique Giannoni, CEO, Thales InFlyt Experience, said: "Singapore Airlines' selection is a crucial step in our growth and development. The airline has pioneered IFE and remains at the forefront of innovation in this sector.
"Being chosen to equip both systems and connectivity for their fleet is a critical proof point of Thales' strength in the market, the depth of our local implantation in Singapore and the maturity of our products. We are thrilled to partner with them to provide a premier passenger experience that supports their brand, and give all passengers flying on Singapore Airlines the best possible in-flight service."