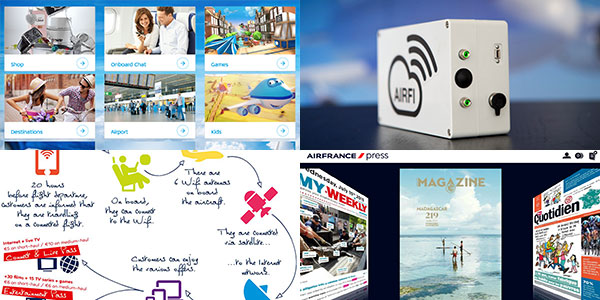 As passengers' appetite for access to in-flight entertainment and connectivity on short- and medium-haul flights increases, so does the pressure on airlines to invest in solutions that can keep their customers connected and entertained at 30,000 feet. With airlines being presented with more options than ever before, Air France-KLM is keen to take on a leadership role in Europe.
Air France-KLM already offers connectivity on board KLM's new Boeing 787s after a successful trial on two 777-300 aircraft. The airline's ambition is to have its aircraft connected and to offer both connectivity and forms of entertainment to its passengers throughout their journey.
The Air France-KLM group is continually researching and testing several options. In fact, an in-flight connectivity and content streaming solution is currently being trialled on two Air France A320s in partnership with Orange.
"Until we have our fleet connected we are also exploring alternatives, like AirFi," said Joost Blom, Air France-KLM's Project Manager – Product Innovation Inflight. On two KLM 737-800s, a four-month trial of the AirFi portable entertainment product is well under way to explore the viability of this solution.
The system, branded "KLM in the Cloud", is being trialled on two routes – Amsterdam-Istanbul and Amsterdam-Madrid – providing passengers with access on their own devices to short videos, digital newspapers and magazines, destination information, the KLM shopping catalogue and even bespoke children's content featuring KLM's very own "Bluey" character. Full cabin video streaming is not an option at the moment, but is being investigated as well.
Speaking to FTE, Joost Blom explained: "The KLM-AirFi pilot brings content on board, without the need to make aircraft modifications. The feedback from the first weeks, both from our crew and responses to our survey, shows the interest of our customers. The "KLM in the Cloud" platform functioned from day one and was welcomed by our passengers, and AirFi continues to make adjustments to the setup and usability. We do realise that this solution does not offer an internet connection.
"We have no embedded IFE on our single aisle fleet, so adding a form of entertainment would expand our offer on our European routes," Blom continued. "BYOD is something our customers are doing regardless of our offer – people bring their devices loaded with entertainment and consume that during their flight. With the Air France Press app we have also made a start with offering BYOD entertainment with newspapers and magazines supplied by us, and we are looking into expanding the offer, now starting with a pilot offering 50 movies/TV shows on three of the longest Air France medium-haul routes."
AirFi system attracting passengers' interest
FTE also caught up with AirFi CEO Job Heimerikx and Delivery Manager Mariska Hooijmans, who revealed their delight at the positive performance of the portable, battery-powered, self-scaling AirFi system to date. "Currently, on the two routes on which KLM is trialling the solution we have experienced significant interest from passengers, which is positive," Hooijmans said. She explained that on board announcements are helping to make passengers aware of the AirFi network.
"The great thing is the performance isn't impacted by the number of people using the system," Heimerikx explained. "AirFi is now on 14 airlines in total and we generally bring two AirFi boxes on board each aircraft and these can easily serve 100 passengers without any degradation in performance. Because of the flexibility of the system, if an airline found that more than 100 passengers were consistently using the system, we can easily insert an additional AirFi box. We have made the process so incredibly flexible that the entire organisational burden for the airline can be minimised to almost zero." The airline only has to bear in mind the associated loading/unloading logistics.
Heimerikx also outlined that new features will be introduced in the coming weeks – "the AirFi box means every year or every second year we can bring new innovations into the cabin at zero cost to the airline."
As for Air France-KLM's wider connectivity plans, Blom explained that the group will continue the rollout of full in-flight connectivity on the rest of its long-haul aircraft. "Adding additional product features and services for our customers remains our focus," he said. "As with all aircraft modifications, adding Wi-Fi and/or streaming to aircraft is an interesting challenge."