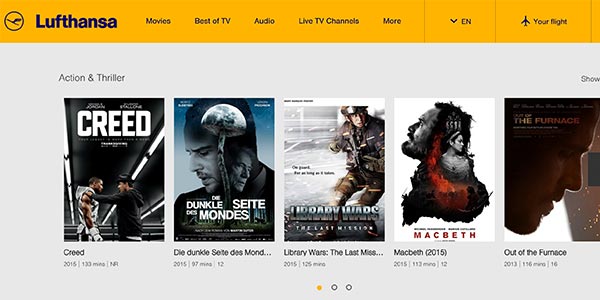 Lufthansa has debuted its new online in-flight entertainment portal, which provides passengers with a comprehensive preview of the content they can expect to find onboard their flight.
The website features a full listing of all movies, television programmes, music and games, and passengers can watch movie trailers as they start to plan their IFE schedule ahead of their flight. The website also provides a full guide for the live channels, including Sport24, available on the carrier's intercontinental flights.
Commenting on the introduction of the website, Lufthansa's Dr. Alexander Feuersänger, Director, Product Management Cabin Interior and Inflight Entertainment, said: "Last year we successfully completed an extensive upgrade in cabin interior, in-flight entertainment and connectivity on all of our long haul aircraft. Today we are excited to take our web-based entertainment platform to the next level too."
Feuersänger also hinted that there is more to come from the online platform. He explained that "interesting features will be added over time for our guests to have an even more personalised entertainment experience".
According to Spafax, which has worked closely with Lufthansa to develop the new website, the platform will eventually offer the ability to personalise content recommendations based on individual passenger preferences.