With developments in the in-flight connectivity space continuing at speed, airlines have their work cut out to establish which solution best suits their needs. At Aircraft Interiors Expo in Hamburg, FTE paid a visit to some of the key players in the connectivity sector to establish what they can offer to airlines and what impact widespread high-speed broadband connectivity will have on the passenger experience in the months ahead.
ViaSat: 'Our competition is a $50 a month home Internet plan'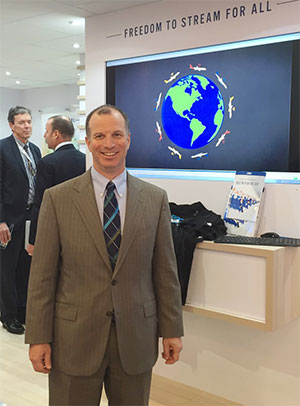 With its "Exede in the Air" connectivity service powering JetBlue's highly regarded "FlyFi" product – a service that most agree has set the benchmark for in-flight connectivity to date – it is no surprise that ViaSat remains confident of its position in the commercial air transport market. "The way we look at it, our competition is a $50 a month, 50 mbps home Internet plan. Our competitors aren't here in Hamburg," stated Don Buchman, Vice President Commercial Mobility, ViaSat. Elaborating on this point, Buchman explained that ViaSat is going after the demand on the ground – from homes and coffee shops to cruise ships – and this is, in turn, having a positive knock-on effect on air transport, with airlines able to benefit from the same high-speed, ground-style connectivity.
ViaSat is now pressing ahead with the global, three-satellite ViaSat-3 network, which Buchman explained will provide another step-change in the in-flight connectivity space. Each satellite will deliver 1 Terabit per second of capacity, with the first launch scheduled for mid-2019. "We don't want to be playing catch-up," he said, "we want to be ready for tomorrow and ViaSat-3 shows that."
JetBlue's ViaSat-powered "FlyFi" service has received such positive reviews in part because it allows passengers to stream movies and TV shows on their own device, and Buchman told FTE that high-speed, reliable on board connectivity is now empowering airlines to re-assess their IFE models. "In the past, airlines had no option – it was embedded IFE or nothing," he said. "This (high-speed connectivity) gives the airline another option. Passengers are already curating their own experiences. We can see with JetBlue that when passengers have access to the FlyFi service, their usage in-flight is broadly the same as their usage on the ground." He continued: "Two or three years ago airline conversations were along the lines of: 'Do I have Wi-Fi or don't I have it'. A Wi-Fi sticker was enough for them, but we didn't ever think that was enough. It has to be high quality. We've really changed the tone in the last couple of years."
Inmarsat: 'Global Xpress is just weeks away'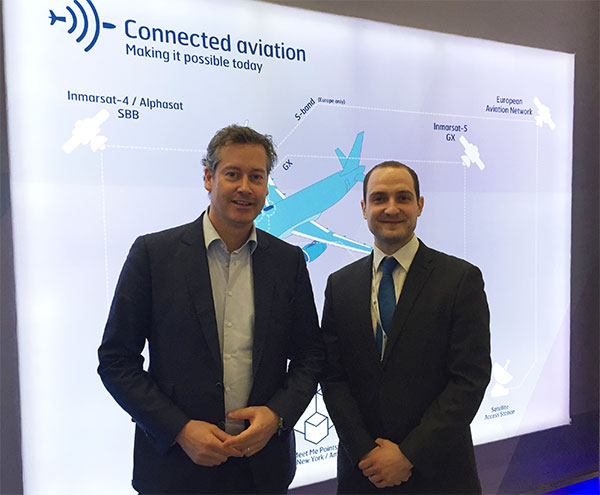 Another big player in the connectivity space is Inmarsat, and with its Global Xpress (GX) Aviation service edging closer to commercial operation with its launch airline partner, FTE sat down with Frederik van Essen, VP, Strategy and Communications, Aviation, who explained that "GX is technically there". "We will announce the commercial go-live when it is 100% ready," he said, but this should be a "matter of weeks, not months".
Unsurprisingly, van Essen said Inmarsat is experiencing a huge amount of interest from airlines – in fact, the likes of Lufthansa, Qatar Airways, Singapore Airlines, Air Astana and Jazeera Airways have already signed up for the service. "They can see that the industry is rapidly changing", he stated. Pointing out the fact that the GX network entered commercial service in December 2015, he added: "We're now at a stage where we can see that there's a connectivity product that works, and works globally."
As van Essen explained, the European Aviation Network (EAN) is another vital component in the company's connectivity roadmap. EAN will be the first aviation passenger connectivity solution across European airspace to integrate an advanced satellite network and LTE-based ground network, and will enable aircraft to switch automatically between satellite and terrestrial connectivity. Lufthansa has already signed up as a trial partner and the first commercial trials are scheduled for mid-2017.
Commenting on the effect that the Inmarsat GX network will have on the industry in the coming months and years, van Essen said: "It will have a tremendous impact on passengers, crew and the whole onboard experience."
GEE extends connectivity focus to Ka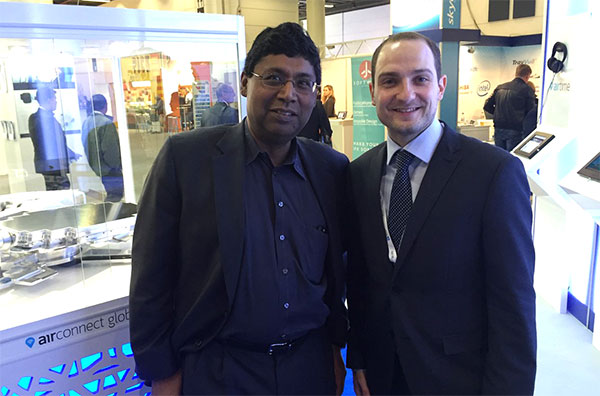 GEE announced the development of the new Airconnect Global Ka high-speed antenna at AIX. The new antenna, developed in partnership with existing partner QEST, adds Ka-band capability to the current Airconnect Global antenna platform. As Aditya Chatterjee, Senior Vice President of Connectivity Systems & Chief Technology Officer at GEE, explained to FTE, by offering Ku- and Ka- band capability on a single antenna platform, GEE's open architecture will allow customers to select the most efficient satellite solution for global flight operations.
"What happened in the last few months, perhaps even earlier than that, is we started seeing the demand from the North American customers (airlines) increasing, to much more than what Ku HTS capacity is providing to us," Chatterjee explained. "There is a lot of Ku capacity but we said OK, if the demand is increasing so much, perhaps we need to have additional Ka capacity so we don't have to worry, or our customers don't have to worry, about what capacity they're going to use."
To satisfy this demand, GEE and Hughes Network Systems recently announced an agreement under which Hughes will deliver satellite connectivity for GEE's next-generation, multi-band airborne services utilising the high-throughput Ka-band EchoStar XIX satellite, planned for launch in late 2016, to meet this growing demand for higher performance in-flight connectivity over North America.
Chatterjee continued: "The Ka antenna technically has been in the pipeline since day one, but we decided to start with Ku and then do Ka. First we focused on Ku and now we're adding Ka to the mix." For existing customers using the Ku antenna, Chatterjee explained that switching over to a Ka antenna is a very simple process. "If you look at our Ku entire design and the Ka entire design, very little has to change. The aperture has to change, the dome has to change and one other box has to change. You can change one to the other in less than four hours. It's a very simple process," he said.
Looking beyond North America, Chatterjee added that GEE is satisfied that it has more than enough Ku capacity to satisfy demand if needed in the likes of Europe, Asia and South America, although Ka capacity could be added in the years ahead if the need becomes apparent.
Rockwell focused on 'connected ecosystem'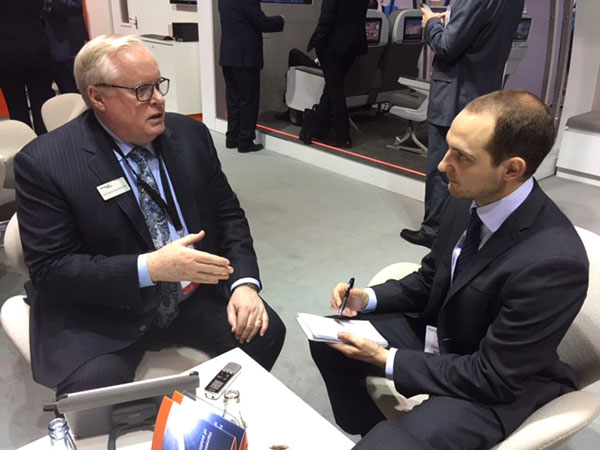 Shortly after it was announced that Air Astana has selected Rockwell Collins to provide onboard broadband connectivity powered by GX, FTE visited the Rockwell booth, where Richard Nordstrom, Senior Director, Global Marketing, offered insight into the company's connectivity capabilities. "This is our world, the connected ecosystem," he said. He also outlined that "we're going to have more and more of a focus on bringing that enterprise approach to what we're doing" in the future.
As a value added reseller of the GX Aviation connectivity service, he lauded the fact that "we have an actual inventory, we have hardware and antennas, all ready to go and be installed". He continued: "We're ready. We've just had Air Astana confirmed and in September we'll begin installation on their aircraft – in fact, we'll have a bunch of them done by the end of September. Then we have Jazeera Airways that will be coming in some time after that."
With Sichuan Airlines currently in the process of taking delivery of A320 and A321 aircraft equipped with Rockwell Collins' seatback PAVES seat-centric IFE system and overhead PAVES Broadcast IFE solutions, FTE couldn't help but ask for Nordstrom's thoughts on what impact in-flight broadband connectivity will have on the IFE market. "Today, almost every twin-aisle aircraft that leaves Airbus and Boeing has in-seat video of some form or another. Almost all of them have connectivity and almost all of them have wireless too. So what we're seeing in aircraft today is a multi-functional process. We're seeing that there's a complementary process occurring where a lot of in-seat video environments in aircraft are also having wireless, because millennials are looking at a tablet while watching a movie and they could be listing to music on their phone at the same time. The point is in-seat video is not dead and the airlines are proving it because they're buying it. They're buying aircraft that are years out for delivery with in-seat video."
Gogo highlights connectivity demand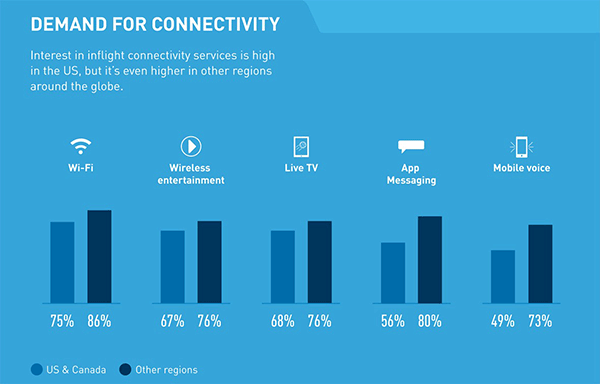 What better way to show off your connectivity product than to invite people on a flight to test out the service for real? That's exactly what Gogo did in Hamburg, flying in its very own Boeing 737 test aircraft, "The Jimmy Ray", to show off its 2Ku technology.
Meanwhile, in the expo Gogo shared the findings of its global traveller research study, which puts into context the rising demand for access to high quality connectivity among passengers. The study shows that in the US and Canada 75% of respondents expressed an interest in making use of in-flight Wi-Fi, with this figure rising to 86% in other regions. As for wireless entertainment, 67% of respondents in the US and Canada are interested, with 76% of those from other regions interested in making use of such services. The trend is similar for live TV. 68% of respondents in the US and Canada are interested in using live TV in-flight, with the figure increasing to 76% in other regions. Clearly, demand for onboard connectivity is very much global, highlighting the increasing expectations placed on airlines, and their partners, who must provide their passengers with high quality connectivity services.
Thales' InFlytCloud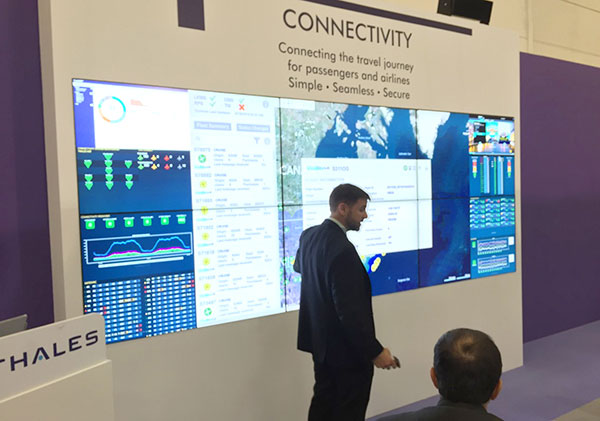 During a busy week for Thales, in which the company announced it has been selected by Airbus as lead supplier for high bandwidth connectivity (HBC) systems on A320, A330 and A380 aircraft platforms, FTE was given insight into how the Thales InFlytCloud will help airlines on the path to digital transformation.
With a single login for access, InFlytCloud will provide airlines with a variety of services and information to help improve operational efficiency and the passenger experience. Services include monitoring, reporting and data analytics in the areas of systems health, performance, passenger experience and revenue. As FTE was told, the thinking behind the InFlytCloud is to enable airlines to make smarter, data-driven decisions in real time.