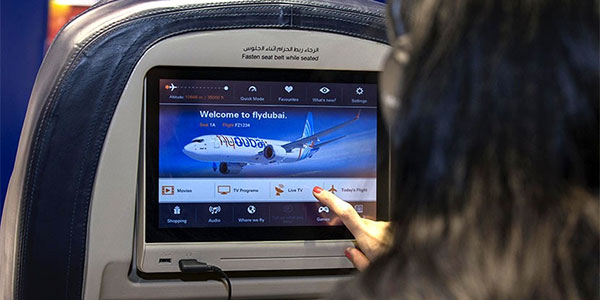 Low-cost carrier flydubai now offers in-flight Wi-Fi and access to live TV on select Boeing 737 aircraft. The fleet-wide deployment of Global Eagle Entertainment's (GEE) Airconnect Ku IFE&C system is under way and will allow passengers to connect to the internet and watch live content on their own devices.
GEE already supplies flydubai with content for its seatback Fiber-to-the-Screen (FTTS) in-flight entertainment system, and the new live TV streaming option will complement this system and present passengers with further choice. Among the channels that passengers can access in-flight are BBC World News, Al Jazeera News, MBC1 and the Discovery Channel.
Ghaith Al Ghaith, Chief Executive Officer, flydubai, said: "This launch marks a major milestone in delivering high-speed satellite connectivity aboard our flights and brings technical capabilities that will continue to differentiate the airline from its peers.
"GEE's total end-to-end solution allows us to enhance our award-winning IFE&C strategy and bring a new level of service to our passengers."
Dave Davis, Chief Executive Officer, GEE, added: "GEE has enabled flydubai to take control of the total in-flight passenger experience like never before, starting with integrated in-flight entertainment, connectivity, digital media solutions and rounding it out with real-time data operations solutions. We're looking forward to tailoring additional solutions that will continue to enhance the flydubai passenger experience in the months and years ahead."