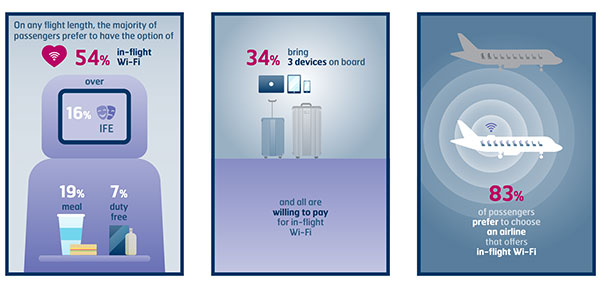 The findings of a survey conducted by Inmarsat and GfK shed new light on the growing demand for in-flight connectivity among travellers, with more than half of the 9,000 people surveyed saying they would prefer onboard Wi-Fi over in-flight meals and in-flight entertainment (IFE).
The survey – which gathered responses from short-, medium- and long-haul passengers across 27 countries in Europe, Asia, Australasia and Central and South America – found that 83% of travellers would prefer to fly with an airline that offers in-flight broadband, while 78% said they expect onboard connectivity to replace in-flight entertainment systems within five to 10 years.
The majority of passengers also said they would be willing to pay for connectivity. In Europe, 69% said they would pay for in-flight Wi-Fi, in Asia this figure was 67%, and in Latin America it dropped slightly to 64%. This willingness to pay for connectivity applies to short-, medium- and long-haul flights. Also, three-quarters of those surveyed said a reliable connection is more important than speed.
Leo Mondale, President of Inmarsat Aviation, said: "Demand for broadband in the sky has reached such unprecedented levels around the world that airlines, as well as those in the business aviation and aircraft lessor markets, need to meet passenger expectations or risk losing out to their competitors.
"Our survey clearly demonstrates that passengers demand a highly reliable service. Quality is the essential ingredient that determines whether or not passengers choose to go online during flights. Airlines are therefore under pressure to select the right partner to support them in delivering a reliable and cost effective service."