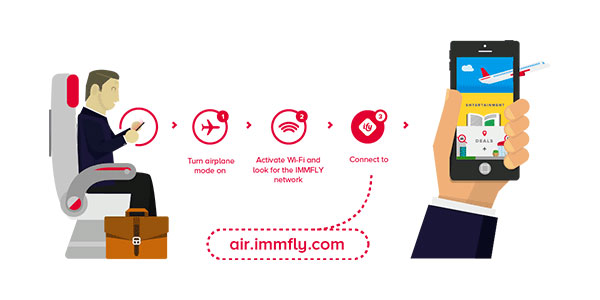 Travellers flying with Spanish low-cost carrier Volotea will soon be able to access digital entertainment on their own devices after the carrier teamed up with Immfly.
On Volotea's A319 aircraft, passengers will be able to connect to an onboard Wi-Fi network and access a variety of content, including newsfeeds, magazines, documentaries, children's channels, music and sports videos. They will also be able to book destination-based activities via their smartphone, tablet or laptop.
The Immfly solution is already available on Iberia Express services, and at the recent Future Travel Experience Europe 2016 event, Immfly's Juan Carlos Iglesias also revealed that five more airlines based in Europe and LATAM have agreed to adopt the pioneering in-flight solution.
Jimmy M. von Korff, Co-founder of Immfly, said: "These new deals reinforce our position as a strong in-flight monetisation channel to the airline market. We're delighted to have the opportunity to draw from entertainment content that improves the passenger experience to provide a powerful ancillary tool for our clients."
The Immfly service will go live on board with Volotea in July 2016 and will be progressively rolled out across the carrier's new A319 fleet.