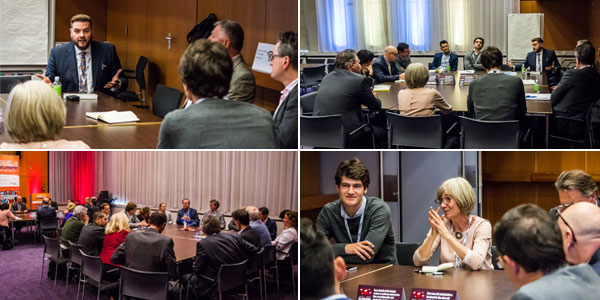 At Future Travel Experience Europe 2016 last month, delegates participated in a dedicated Co-Creation Forum working group to explore how cabin design should evolve to embrace innovation like reconfigurable and windowless cabins, as well as to counter challenges with space, comfort, noise and BYOD compatibility. The working group also explored how all stakeholders involved in the aircraft cabin design and delivery process could work together more effectively during the cabin design process. Here we highlight some of the key conclusions.
1) Vision 2025:
A holistic approach to cabin design: no optimisation of specific features, but consider all elements in relation to each other.
Internet of things: connected passenger experience through the whole customer journey that is relevant and delivers value.
A new model of Economy Class (for legacy carriers at least, since LCCs are implementing their own model) based on its own particularities of this class of travel rather than a "decaf" and scaled down version of the "what is left" if we remove the creature comfort and services from the First and Business Class experience.
Focusing on not just the space available but how to make the most out of it to deliver and make it usable to the passenger/customer proposition.
Cabin flexibility concept: what can we do with the unsold and unused space in the cabin? Can there be a new cabin model based on allowing passengers to use and share unsold space in the cabin? Flexible seating with variable width?
This new cabin model could allow greater passenger customisation via the flexible use of space and also in conjunction with a customisable experience via BYOD and VR, and also with existing embedded IFE systems that will have to evolve to catch up quickly with the latest developments in consumer technology.
These will be linked with new and innovative ways to generate revenue onboard through the offering of products during an immersive passenger experience.
2) What are the challenges to achieving this vision?
Improving education of airlines with regards to knowing what are the possibilities offered by the OEM suppliers for enabling innovative products.
Airlines to establish business models based on less rigid cabin classes to avoid hindering a more flexible approach to tailoring the flying experience or stopping innovation.
Are suppliers willing to work together and collaborate with airlines? They are indeed, however the current model doesn't involve risk sharing. Many innovations are not taken further due to the risk of commercial failure that is not shared between suppliers and airlines.
Large aircraft integrators can still stop innovations developed by airlines, design studios and OEMs by being too risk-averse and not allowing room for new proposals as line-fit.
Innovation is more likely to happen as a retrofit model than with the current rigid line-fit catalogue SFE model.
3) What collaboration model(s) could help achieve these improvements?
Setting minimum ethical product standards (minimum space seat pitch, ergonomics, etc.) that would create a common baseline from which to build the passenger and airline brand experiences.
Collaboration and co-creation can be further developed but only if risk sharing is agreed from the outset. The airline supply chain model needs to change to evolve (flexible RFPs, IPs, etc.) and to allow the collaboration to happen.
Joint ventures or similar airline alliance models, only if the airframe manufacturers are onboard and they don't stop the development at risk of innovative solutions.
Being honest about the reasons why some innovation should be driven. For instance, are the windowless cabins better for the passengers and their experience onboard, or are they better for weight and fuel reduction or to reduce aircraft structural design and manufacturing complexity? Are we just camouflaging the changes into passenger innovations or passenger driven changes?
Being honest about why we do it and for whom we do it.
4) What are the realistic timeframes for executing these plans?
Timeframes or development times need to be reduced. We cannot design in five to eight year cycles any more. The consumer world moves well ahead of the current aviation development cycles, and so do passenger expectations.
5) Who should fund/lead the improvements?
Collaboration should also be extensive to cost sharing in terms of development rather than just conceptual/working level. Suppliers can go bankrupt if they invest time and resources and airlines do not collaborate in sharing the funding/cost burdens.
What do you think of this 2025 vision, the challenges we face as an industry, and the potential next steps? Feel free to share your own thoughts and recommendations in the comments section below.