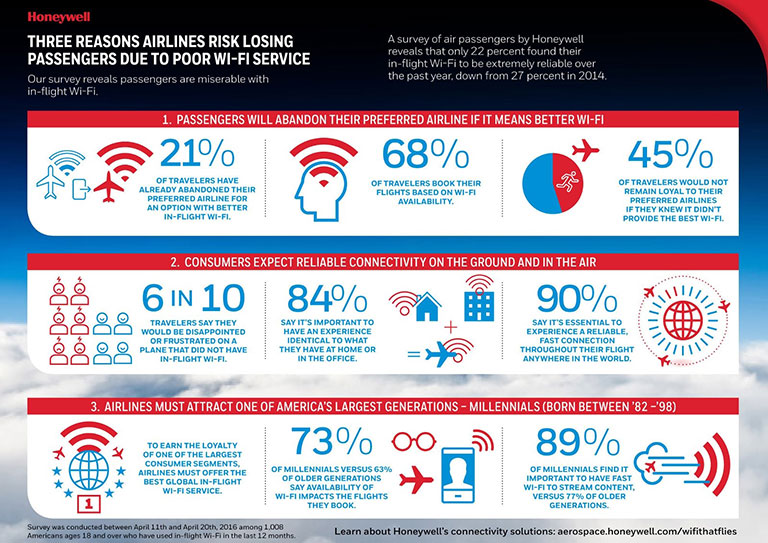 Sixty per cent of American travellers said they would be disappointed or frustrated if they were to board an aircraft without Wi-Fi, according to a new survey from Honeywell.
The Honeywell Aerospace Connectivity 2016 Survey asked 1,008 travellers about various aspects relating to in-flight Wi-Fi. The results showed the high demand for the service and how much it is valued by users. 21% of the people surveyed said they had already changed from their preferred airline because a competitor offered a better Wi-Fi service. This marks a 4% increase on the number from the equivalent study two years ago.
The vast majority of respondents (84%) felt the experience of the service should be like what they get at home. Furthermore, most (83%) believed that it should be fast enough to watch YouTube and Netflix, and 90% felt this connection should be reliable no matter where the destination.
The report suggests reliability has decreased over the past couple of years, according to travellers. Only 22% said their Wi-Fi had been extremely reliable over the previous year. This is compared to 27% in the 2014 survey.
The data also showed the difference between the younger and older generation, in terms of how much Wi-Fi is valued. 73 per cent of the 'US millennials', meaning those born between 1982 and 1998, felt Wi-Fi availability affects which flights they book, compared to 63% for the older generations. Other findings included that the millennials value a fast speed connection more than the older generations (89% compared to 77%) and more millennials have switched airlines for a better Wi-Fi service (27% compared to 15%).
Carl Esposito, Vice President of Marketing and Product Management for Honeywell Aerospace, said: "Passengers are serious about getting the best in-flight Wi-Fi experience possible. To avoid losing passengers and revenue, airlines need a connectivity service that is reliable all the time, no matter where they fly."