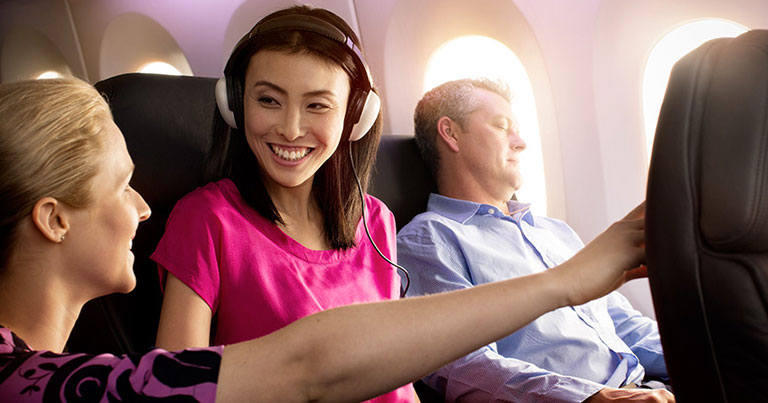 More passengers will be able to experience premium seats on Air New Zealand's new Dreamliners after the airline announced it would be increasing the number of business and premium economy seats on its 787-9s.
This comes as part of a $100 million push from Air NZ to satisfy passenger demands. With increasing interest from travellers in using the premium cabins, three new 787-9s, which will be delivered from October 2017, will feature 27 Business Premier seats (up from 18 on the carrier's existing Dreamliners). Furthermore, the number of Premium Economy seats will increase from 21 to 33.
There will also be updates to all of the 777-300s from February 2017, including the installation of Panasonic's eX3 IFE system. The interiors will be refreshed to include the new Business Premier and Economy seats.
The Air NZ luxury leather Premium Economy seats, first seen in the Dreamliner in 2014, will also replace the current 'Spaceseat', and the number of premium economy seats will increase from 44 to 54. This refurbishment programme is set to be completed by November 2017.
Air New Zealand's General Manager Customer Experience, Carrie Hurihanganui, explained the thinking behind the replacement of the Spaceseats: "When we unveiled the Spaceseat in 2010, it was revolutionary and clearly the best option in the market at the time, as a string of international awards has proven. However, seating technology and materials have come a long way since then and our customer research now shows consistently higher satisfaction scores for our newest Premium Economy offering so it's time to continue Air New Zealand's evolution in this space.
"With these changes, we look forward to being able to offer our customers a consistent Premium Economy product across our long haul fleet and being able to welcome even more customers into our premium cabins with the expanded premium footprint on our Dreamliners. The reconfiguration of our Dreamliners and refurbishment of our 777-300s signal a clear commitment by the airline to continue to deliver the best onboard customer experience into the future."