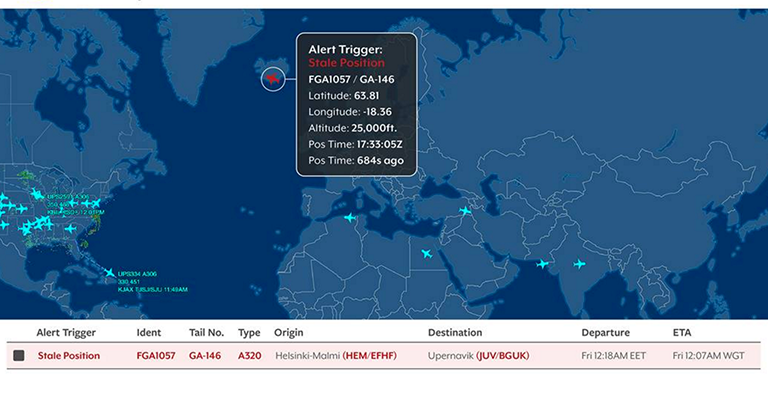 Qatar Airways has announced that it will be the launch customer of GlobalBeacon, a tracking solution by Aireon LLC and FlightAware, which is designed to provide up-to-the-minute global tracking of aircraft equipped with Automatic Dependent Surveillance-Broadcast (A-DSB) technology. The solution will be operational by 2018, three years before the International Civil Aviation Organization's (ICAO) recommendation for compliance by 2021.
Announced by ICAO in March of 2016, Global Aeronautical Distress Safety System (GADSS) was created to help improve the ability to detect commercial aircraft in remote locations. The key components of GADSS recommend that aircraft report their position to the airline's operations centre at a minimum of once every 15 minutes under normal flight circumstances. However, if an aircraft should become in distress, position reports are then to be provided every minute. GlobalBeacon, which leverages 66 low-earth-orbit satellites, will provide a permanent minute-by-minute reporting capability.
Qatar Airways Group Chief Executive, HE Akbar Al Baker, said: "As one of the fastest growing airlines in the world, both our needs, and our drive to deliver the very best services for our global passengers, are continually evolving. GlobalBeacon will seamlessly integrate with our existing ICAO 2018 compliant flight watch technology (Total Operations System), and further enhance our fleet management by providing updates every minute.
"I am proud of Qatar Airways' leadership in this vital area of aviation safety and awareness. We will be the first airline in the world to have the capability to use worldwide satellite air surveillance to support our airline operations and to achieve the highest level of flight tracking standards ahead of the ICAO 2021 mandate."
Aireon CEO Don Thoma added: "Qatar Airways is a leader in the aviation industry, and their proactive approach to implementing the GADSS recommendations reinforces that point. With a modern fleet of 190 aircraft flying all over the world, across remote and oceanic airspace, Qatar Airways and GlobalBeacon are an ideal match and no new avionics will be required. We're excited to welcome them as a partner."