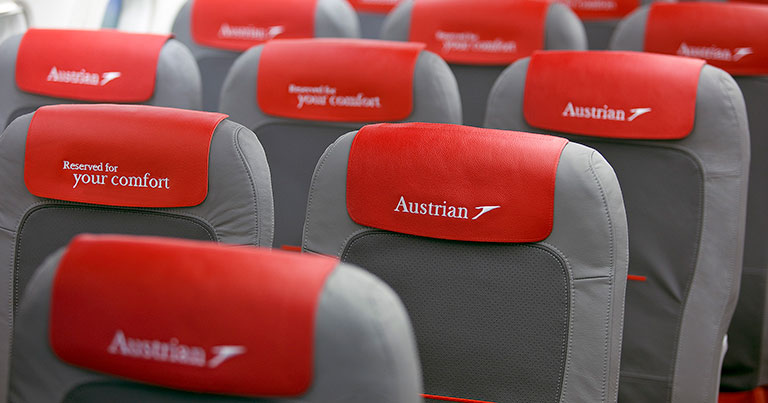 Austrian Airlines has announced that it will be introducing Premium Economy seating on all of its long-haul aircraft.
The move comes as part of a significant project from the airline called 'Next Level Austrian'. Premium Eco, which will offer a larger recline angle, more seat spacing and a broader seat surface, will be installed on all of the carrier's B767s and B777s. There will be 18 of these seats in the former and 24 seats in the latter.
The airline will be removing Business and Economy seats to accommodate the change, so depending on configuration, the capacity on the B767s will be reduced by three or four seats to 211. On the B777s, capacity will be reduced to 302 from 308. €15m will be invested in introducing the Premium Eco seats, and the aircraft will be updated in winter 2017/18 for operation in summer 2018.
Another notable feature of the Next Level Austrian programme is the planned installation of Ka-band connectivity before the end of the year. The onboard connectivity will be trialled next month and is set to be offered on the first aircraft in mid-December. The entire Airbus fleet is scheduled to be installed with connectivity by summer 2017 as part of a €5m investment.
Additional long and medium-haul aircraft
Austrian will also introduce new aircraft to its long-haul and medium-haul fleets, including an additional Boeing 777 and two Airbus A320s.
Austrian Airlines CEO Kay Kratky said: "I am pleased that the go-ahead has been given to the first package of the 'Next Level Austrian' strategy and thus the next step in the development of Austrian Airlines."
The airline's CCO, Andreas Otto, said: "We want to more strongly exploit the cost advantages of Austrian Airlines in the Lufthansa Group, and play a bigger role in product developments. Austrian Airlines has already set an example in terms of innovations based on products such as á la carte catering, business class online auctions and social gifting."