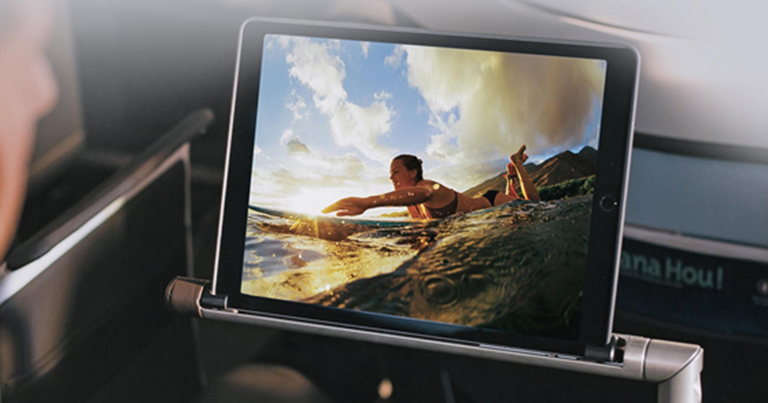 Hawaiian Airlines will be offering 12.9-inch iPad Pros for in-flight entertainment (IFE) in the Premium Cabin on its Airbus A330s later this year.
The airline recently started sales for the new Premium Cabin on the A330s and has designed the seats to support the IFE solution, which is being delivered in partnership with Bluebox Avionics. It will be available starting 5 December between Honolulu and Narita, Brisbane and Auckland. It will also be available between Honolulu and Sydney from December 13. The rest of the A330 fleet will be retrofitted with the Premium Cabins and iPad Pro-based IFE through 2017.
This latest development comes after Hawaiian Airlines became the first US airline to offer iPad Minis on all of its wide-body Boeing 767-300 aircraft in 2013.
Avi Mannis, Senior Vice President of Marketing at Hawaiian Airlines, said: "When designing our Premium Cabin for the A330 aircraft, we wanted to redefine the leisure travel experience to Hawaii. Having our seats custom-built meant we could also include a totally new IFE solution as part of that experience – one that delivered the highest quality visuals on a large-format screen. That's why we turned to our partners at Bluebox for a solution."
David Brown, Bluebox's Joint Managing Director, said: "Bluebox's system gives Hawaiian the ability to provide the latest high-quality technology in its cabins, tracking the rapid evolution of device technology and making Hawaiian Airlines a perfect example of a first mover – bypassing the status quo to deliver something unique to its passengers.
"Our IFE platform not only provides an excellent customised passenger experience but saves airlines money – a win-win for both passengers and airlines. Bluebox has the relationships secured to deliver early window content on our systems and a high-quality platform that is much easier to deploy and upgrade at a fraction of the cost of traditional systems."