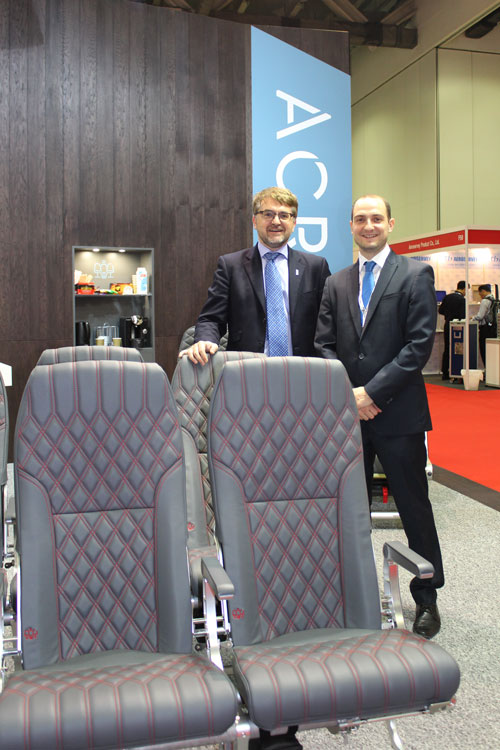 While business class passengers have become used to lie-flat beds and in-flights bars, those who travel in economy class have had little to get excited about in recent times. As airlines seek to increase cabin density, many economy passengers have seen comfort levels at best stagnate, and at worst decrease.
In-flight entertainment developments and the ongoing rollout of onboard Wi-Fi are at least helping to provide welcome distraction, but if shoulders are rubbing and legroom is limited, the economy class experience is unlikely to be remembered with fondness.
At the heart of the discussion about economy class comfort is the seat itself. Surely, if passengers have a comfortable seat, they will have a more enjoyable flight. With this simple premise in mind, FTE spoke to a number of aircraft seat designers and manufacturers to find out if and how they can help to improve the economy class experience.
The first stop was the Acro Aircraft Seating booth at AIX Asia, which was co-located with FTE Asia EXPO in Singapore. "The process of delivering comfort to passengers sounds simple but to do that you need a huge understanding of the business processes of the airline," Andrew Bowen, Acro's Commercial Director, explained. "Whilst we sell directly to airlines, we look beyond the airlines and look to the passengers. We believe that when you sit in an aircraft cabin you don't somehow change, which is why we talk about furniture rather than equipment."
Acro's economy class seats, he said, are designed to make the most of the limited amount of space available in an economy class cabin. Curved, slim seatbacks create more knee and shin room, for instance, while airlines can also opt for a wider middle seat to offer the passenger stuck in the middle more space.
"For us, it's about designing a seat that fits the airline's business model and gives passengers comfort," Bowen said. "Airlines do care about all their passengers. They are desperately keen to treat economy passengers well."
Prioritising passengers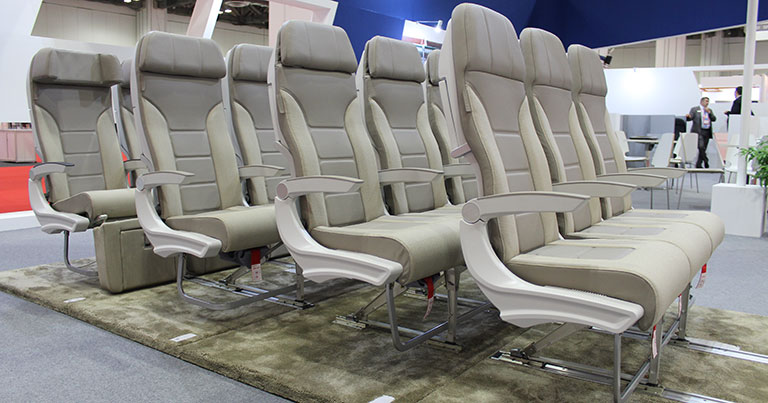 However, there is no getting away from the fact that seat designers and manufacturers are at the mercy of their customers, the airlines. According to Ermanno De Vecchi, CEO of Aviointeriors, a change in mindset is necessary. "Today, all seat manufacturers and their partners are looking to airlines' needs, not the needs of the passengers," he said. "I joined this company two years ago and the first thing I noticed was we weren't looking to the passengers. If the passenger is happy, the airline is happy and we are happy."
De Vecchi stated that airlines accept that "comfort could be compromised if you increase the number of passengers onboard". He continued: "Airlines needs to look at economy in the same way they look at business and first class. Airlines want high density (in economy class) but you have to compromise a little bit. Adding just one inch more would help a lot."
F1-inspired innovation
Mirus Aircraft Seating is a relatively new entrant in the seating market but has already caught the industry's attention by securing AirAsia as the launch customer of the Mirus Hawk short-haul economy seat. When the deal was announced back in April, Tony Fernandes, AirAsia Group's CEO, cited the light weight and easy maintenance as key factors in the decision to purchase the seat for the low-cost carrier's A320s and new A320neos.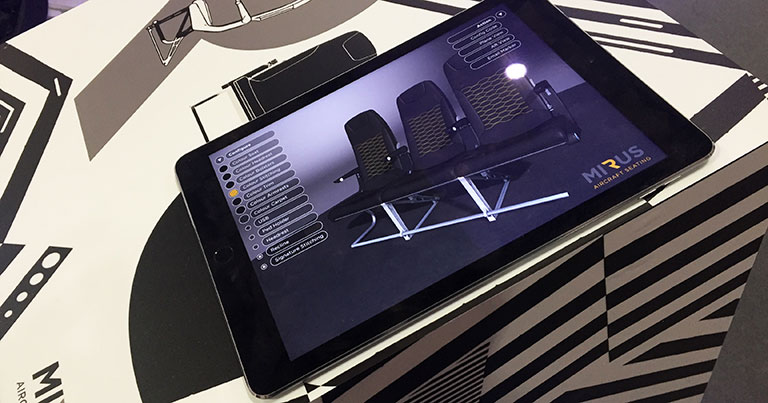 Mirus' James Woodhead explained to FTE that the company's strong Formula 1 heritage enables it to approach the air transport market in a different way from many other suppliers. "We look at aircraft seats and think 'why are they so different to automotive seats?'," he said. With ex-Lotus and ex-McLaren employees in the ranks, Mirus is aiming to "bring knowledge and expertise from other high performance industries" to the aviation world. According to Woodhead, this approach will bring about benefits not only for airlines but also for passengers.
One example can be found in the integration of a USB port into the slimline Hawk seats for AirAsia. The USB outlet has been seamlessly integrated into the seat arm, so that it has no impact on passenger legroom. Just as in Formula 1, Mirus also uses materials such as carbon fibre and high strength alloys to deliver lightweight, strong and durable components. The company's use of computer aided engineering technology and an interactive, augmented reality-enabled app to showcase seating options add further weight to the claim that Mirus is not just another seating supplier.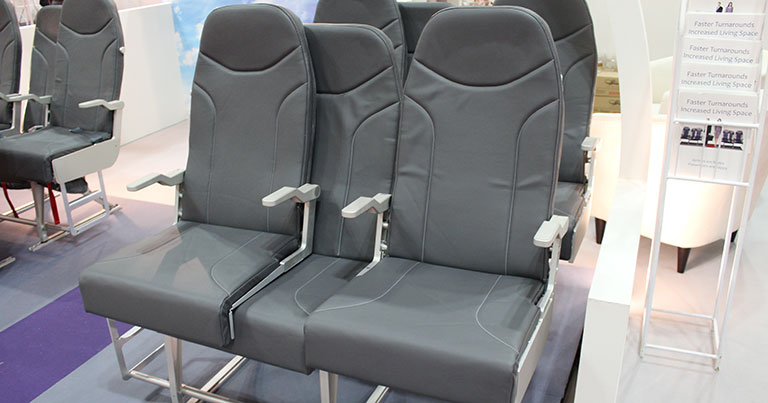 Some companies are really pushing the boundaries of "blue sky thinking". One such company is Molon Labe Seating, which showed FTE the innovative "Side-slip Seat", which has been designed to offer increased living space in economy class. When not in use, the aisle seat slides over the middle seat to increase aisle space, which helps to speed-up the boarding process and allows for direct wheelchair access.
The staggered design of the armrest means all passengers feel like they have a dedicated armrest, while the unique design has allowed two inches of width to be added to the middle seat, which airlines can upsell if they wish.
Hank Scott, CEO of Molon Labe Seating, explained that the Side-slip Seat should be certified in early 2017. "We have a big selling point to airlines," he said. "Airlines can make more revenue, have faster turnarounds and make passengers happier.
"Durability, reliability and maintainability are also important. We can take the armrest off in 30 seconds, take the tray table off in two minutes, we can change the seat belts very quickly, and the tray table doesn't have a latching mechanism. We thought 'let's not have any things that can break easily'."
'Economy class hasn't gone anywhere'
Singapore-based AirGo Design is taking an equally ambitious and inventive approach, as the company's Executive Vice President and Chief Commercial Officer, Jere Tala, outlined to FTE. AirGo's entire philosophy centres on improving the economy class experience. "In business and first class, there are some fantastic products, which have evolved a lot and offer more comfort," said Tala, formerly of Finnair and Qatar Airways.
"Economy class hasn't gone anywhere – the seats are getting smaller as people are getting bigger. Discomfort is the biggest complaint and that's something we want to change."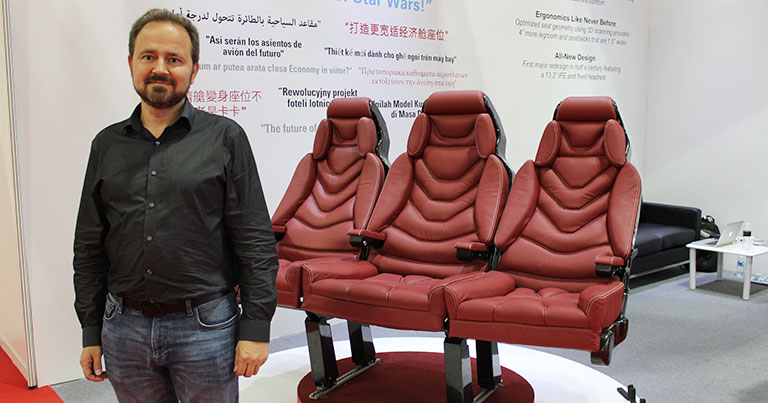 The Orion seat has been designed for long-haul, economy class cabins and boasts a number of unique features. The "human-centred design" provides enhanced lumbar support and an ergonomic seating posture, which Tala said effectively achieves four inches of extra legroom with the same pitch. "Today's economy seats force the passengers to slide downwards due to the lack of properly placed support for the arms, lower back and the neck," Tala explained. The Orion seat has been designed to address this. As well as multi-density foam headrests, patented "Aircushion" cushioning, and a 10.5 degree pre-recline to aid ergonomics, redesigned armrests mean the seats, which AirGo hopes will be certified by summer 2017, are up to 12% wider.
"Until now, aircraft seat design has been based on charts made in the 1960s," Tala said. "We've used 3D body scanning to create a seat based on body contour. We've corrected the seating posture. Airlines are struggling to differentiate themselves in economy class and certain premium airlines want to find a way to differentiate themselves. We can help them do it."
While many airlines can rightly be accused of not doing enough to improve comfort levels in economy class, aircraft seat designers and manufacturers can certainly not be accused of ignoring the issue. The challenge they face, however, is to convince the airlines, their own customers, to prioritise comfort over density, or at least to find an acceptable balance. Of course, this is easier said than done in a low-margin industry like air transport.
Those that opt to ignore these seating innovations and continue to turn a blind eye to the reality of today's economy class experience risk alienating their passengers. As Acro's Bowen stated: "Seat design and comfort is critical not just because it affects that flight, but because it affects every future flight. If I give you a bad experience, as a passenger you may not fly with me again. Worse than that, you may fly with one of my competitors."
All eyes are on the airlines to see which, if any, will be brave enough to set a new benchmark in economy class.