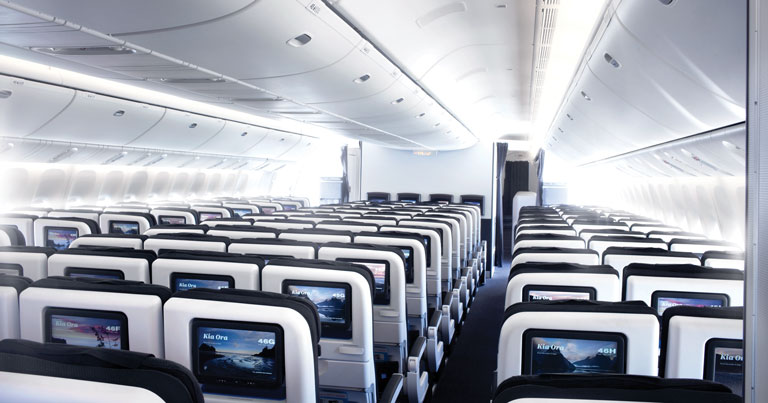 On 7 December, Inmarsat signed a contract with Air New Zealand to provide Global Xpress (GX) connectivity across the airline's long-haul and short-haul fleets.
GX for Aviation, the world's first globally available high-speed broadband network designed for mobility, will be deployed by Air New Zealand to deliver a reliable seamless, broadband in-flight Wi-Fi experience across the world.
"We're very excited about working with Air New Zealand. They're an innovative organisation and have taken a fresh approach to finding the right connectivity partner," comments Inmarsat Aviation President Leo Mondale. "GX for Aviation is the only in-flight broadband solution that is fast, reliable and truly consistent, with seamless coverage across the world provided by a single operator. Our focus is on ensuring customers enjoy a frictionless inflight broadband experience."
Air New Zealand's Chief Digital Officer, Avi Golan, adds: "We wanted a world-class solution that would meet the high expectations of our customers, offering both a consistent and reliable service. We then spent time testing the GX live experience on Honeywell's B757 test aircraft, as part of Inmarsat Aviation's global test tour. We've been monitoring the developments in inflight connectivity for some time and with GX, we believe we will be able to offer broadband on-board in innovative ways that will further set Air New Zealand apart as one of the world's leading airlines."
Furthermore, for the first time, GX for Aviation connectivity will be integrated with Air New Zealand's Inflight Entertainment (IFE) system provided by Panasonic.
The global nature of the GX network means that Air New Zealand's ultra-long-haul routes, across the Pacific and on to the United Kingdom are covered, while the ability to layer-in capacity over Air New Zealand's key regional destination hubs, such as the East Coast of Australia, will ensure that the customer experience will be of consistently high quality.