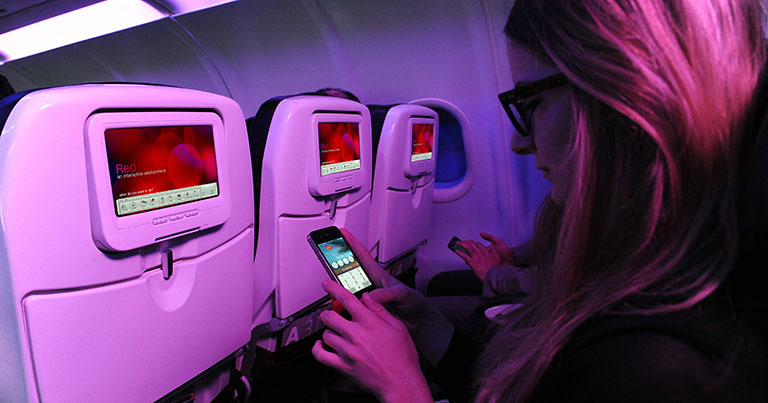 A new report released by Routehappy has found that more than 70 airlines now offer in-flight Wi-Fi in most regions of the globe, with 11 additional airlines offering Wi-Fi compared to this time last year.
The Routehappy 2017 Wi-Fi Report found that 39% of available seat miles (ASM) worldwide now offer at least a chance of Wi-Fi. US airlines offer at least a chance of Wi-Fi on 83% of their ASMs while non-US carriers offer at least a chance of Wi-Fi on 28% of their ASMs.
The top three airlines that offer the most ASMs with Wi-Fi are Delta, United and Emirates, but Virgin America – now owned by Alaska Airlines – is the only US airline with Wi-Fi on 100% of its flights. Outside of the US, Icelandair and Scoot also offer Wi-Fi on 100% of ASMs.
Looking at long-haul routes only, seven airlines – Delta, Etihad, Iberia, Lufthansa and United, as well as Icelandair and Scoot – now offer Wi-Fi on 100% of ASMs; an increase from just one in 2016.
However, the report shows that there is still plenty of room for improvement in terms of the quality of Wi-Fi on offer. Around 32% of ASMs offer "basic" Wi-Fi, which supports basic web browsing only; 61% offer "better" Wi-Fi, which supports full web browsing and limited media streaming; and 7% offer "best" Wi-Fi, which supports advanced media streaming and is comparable to a home connection.
Commenting on the report, Robert Albert, CEO of Routehappy, said: "In-flight Wi-Fi continues to grow in both airline adoption and capability, and this trend is only going to continue in 2017. 2016 was the year that airlines outside the US committed to high quality in-flight Wi-Fi at a rate only previously seen by US carriers, and 2017 will see those commitments come to life.
"70+ airlines currently offer Wi-Fi worldwide, which is quite extraordinary considering less than a decade ago it wasn't even possible."