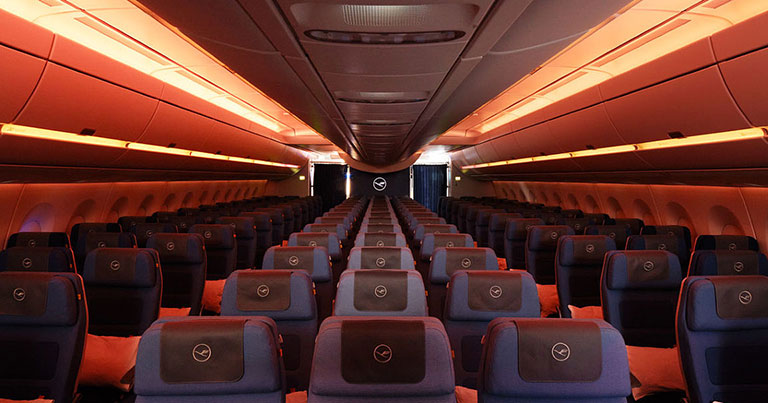 Lufthansa will be the first airline in the world to use a range of different onboard lighting settings on its new A350-900, which are designed to fit with passengers' day- and night-time biorhythms.
The innovative lighting system will provide the right type of light at the right time, which will help to enhance passenger wellbeing. Lighting effects will also be used to emulate a "pleasant restaurant atmosphere" during meal times.
The new A350-900 LED technology provides more than 20 different lighting settings in total. Lufthansa will soon retrofit its Boing 747-800s with the system.
"The wellbeing of our passengers is of particular importance to us," said Dr. Reinhold Huber, Vice President Customer Experience Design, Lufthansa. "So it represents a real milestone for us that we can now achieve these improvements with this innovative lighting technology."
The use of a range of lighting settings is based on findings from research in the field of chronobiology and on known effects of humans' day- and night-time biorhythms. Lufthansa has developed the various lighting moods in collaboration with lighting designers from Kardorff Ingenieure in Berlin.
"Our focus is on passengers' needs when it comes to selecting the type of light to be used. We are thus able to create a pleasant atmosphere which can significantly improve the passengers' feeling of wellbeing," explained Professor Volker from Kardorff.
As of 10 February, Lufthansa will be stationing its first ten Airbus A350-900 aircraft in Munich.