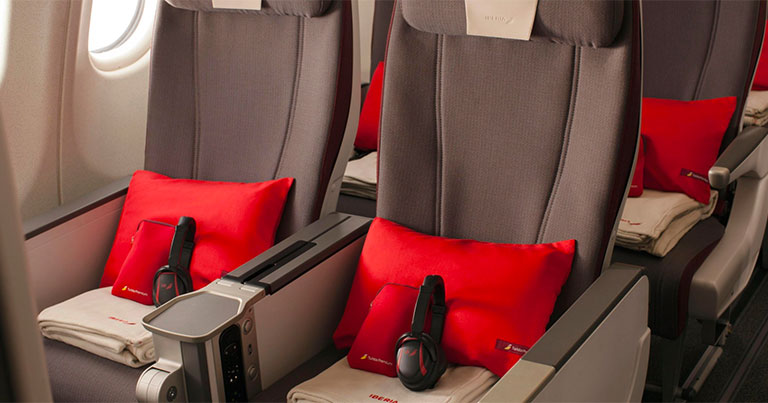 Iberia has unveiled its first Airbus A340-600 fitted with its new Premium Economy cabin and revealed which routes will first benefit from the new seating option.
From May the new Premium Economy product will be offered on flights to Chicago, New York and Bogota; from June it will be added to services to Mexico; and from July and August passengers flying to Miami and Boston will be able to experience the new cabin.
This summer a total of five A340-600s will be fitted with Premium Economy, while the new A350s will also include the product when they are delivered in 2018. By the 2018 summer season, Premium Economy class will be available on all of Iberia's long-haul routes operated by A340-600s, A330-300s and A350s.
Compared to the Economy Class offer, Premium Economy will feature wider seats with a more generous reclining angle, and adjustable head and foot rests. The seats are pitched at 37 inches, compared to 31 inches in Economy.
The in-flight entertainment (IFE) screen will be 12 inches in Premium Economy, compared to nine inches in Economy, and passengers will be offered noise-cancelling headphones. They will also be offered a welcome drink, special menu, table linen and an amenity kit, while customers will be able to check an extra bag and will have access to fast track airport services.