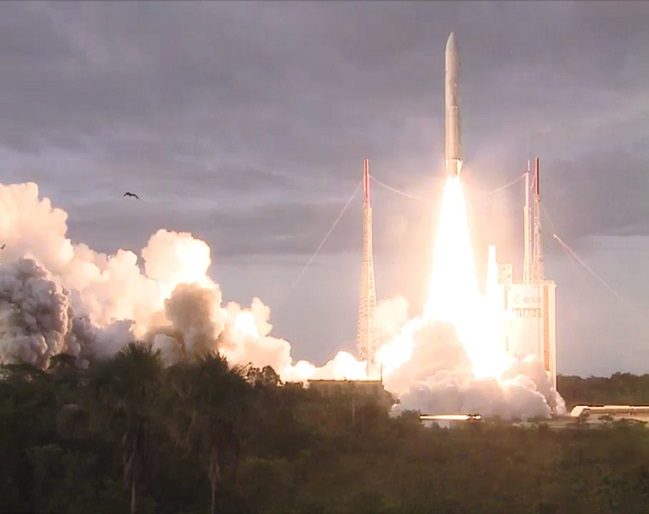 Inmarsat has confirmed the successful launch of its S-band satellite (Inmarsat S EAN) for the European Aviation Network (EAN). The launch is a key milestone for Inmarsat's EAN service, which is on course to commence commercial service later in 2017.
The Inmarsat S-band satellite, built by Thales Alenia Space, was launched on an Ariane 5 rocket by Arianespace on 29 June. The launch team from Inmarsat and Thales Alenia Space will now raise the satellite into its geostationary orbit over Europe and the Middle East, at which point the spacecraft will deploy its solar arrays and reflectors, and undergo rigorous payload testing.
Inmarsat's EAN is the first dedicated aviation connectivity solution to integrate space-based and ground-based networks to deliver a seamless Wi-Fi experience for airline passengers throughout Europe. Inmarsat's strategic partner, Deutsche Telekom, is well advanced in the construction of the complementary ground network, which will be fully integrated with the S-band satellite to deliver a seamless service for Europe's airlines and their passengers.
"Inmarsat and its partners have been making very strong progress in the IFC market and the successful launch of our S-band satellite means that the start of our revolutionary European Aviation Network is now just months away," said Rupert Pearce, CEO, Inmarsat.