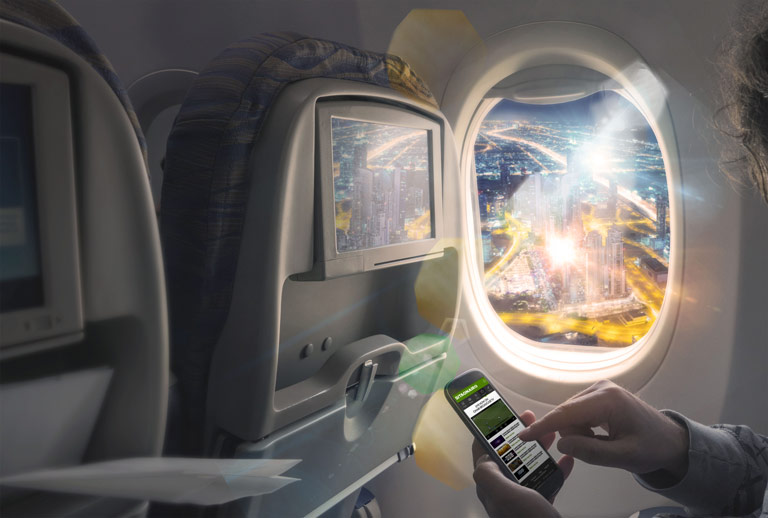 Thought leadership article, authored by SITA.
With airlines embracing connected aircraft, the first in-flight connectivity revolution is clearly in full swing. But we're now poised for in-flight revolution no.2: open platforms and common standards that will unlock new opportunities for digital service innovation.
By 2025, two-thirds of the world's airline fleet will be connected – enabling passengers to transfer their entire digital lives seamlessly from ground to air.
At the same time this is bringing significant operational opportunities and benefits for everyone involved in the value chain – from airlines and airports to airframe and engine manufacturers, original equipment manufacturers (OEMs) and service suppliers.
The drivers for upgrading to a connected aircraft are fourfold, according to SITA's 2016 Airline IT Trends Survey: improvements to the passenger experience (46%), maintenance and aircraft health monitoring (15%), benefits for pilots (12%) and improvements for cabin crew activities, such as tablet apps and credit card payments (7%).
Stage 1
This first stage revolution is accelerating in pace. By 2019, two-thirds of the world's airlines expect to operate fully connected aircraft, up from 37% in 2016.
By the same date, 74% of airlines plan to provide in-flight internet services (33% today), 60% plan to offer mobile phone services in-flight (21% today) and 92% of airlines are focusing on smartphone applications to interact with passengers.
Alongside these changes, the habits of passengers are transforming as they are themselves increasingly connected on the ground – and prepared to use their own devices. That offers the potential not only to deliver better in-flight connectivity and a more tailored passenger experience, but also to consider removing seat-back screens altogether – saving weight and fuel cost.
A drag?
However, the path to realising these opportunities is full of potential obstacles and constraints. There are operational limitations and incompatibilities across platforms, technologies, fleets and service providers' own proprietary systems.
In part that's because technology cycles for aircraft, satellite hardware and infrastructure, onboard communication equipment and mobile devices all evolve at different speeds. As a result, integration, innovation and the unification of the passenger portfolio and passenger experience is complex, time consuming and expensive.
"A lack of interoperability is one of the inhibitors in the growth of in-flight connectivity services across the world's airline fleets," says Craig Foster, Senior Consultant at Valour Consultancy.
"Many airlines weren't even aware this was the case when they made a connectivity investment decision and I expect this will be a topic that grows in awareness and understanding soon."
Stage 2
In a recent white paper, SITAONAIR proposed what will be the second in-flight revolution: the adoption of open architecture and common service provision. This will allow airlines to make passenger connectivity part of the airline brand rather than a lock-in to a supplier's refresh cycle.
Fully open-system architecture, the paper suggests, is the only way that airlines can become fully empowered to have choice and flexibility in their in-flight services and optimise the business benefits of high-speed connectivity. Not least it offers the opportunity to separate key duties, so that the same provider is not responsible for both providing the system and performance monitoring.
According to Singapore Airlines' Vice President of Product Innovation, Yung Han Ng: "Open system developments facilitate the creation of new and innovative ideas, and enable us to develop products/solutions that are platform and device agnostic, and with a shorter time to launch. If suppliers were to adopt open platform solutions in the future, it would be ideal."
Best interests
The speed and scale of airline ambitions suggests that an open and common approach is the way forward and in the best interests of the industry as a whole. "The development of software platforms/middleware is obviously important," comments David Lavorel, SITAONAIR CEO.
"In the broader Internet of Things space, a number of companies have developed connected device platforms and application-enablement platforms that have spurred growth. The airline space should not be any different."
As passenger connectivity becomes more ubiquitous, providing solutions and systems on an open basis means that consistent passenger experience can be achieved regardless of the technology choices airlines may make or have already made.
Critically, this will promote innovation for airlines and passengers, and bring simplicity at application and user level.
"As OEMs open up their technology platforms," concludes David Lavorel, "we are ready to work with airlines to maximise the resulting opportunities. We believe this is what airlines want."